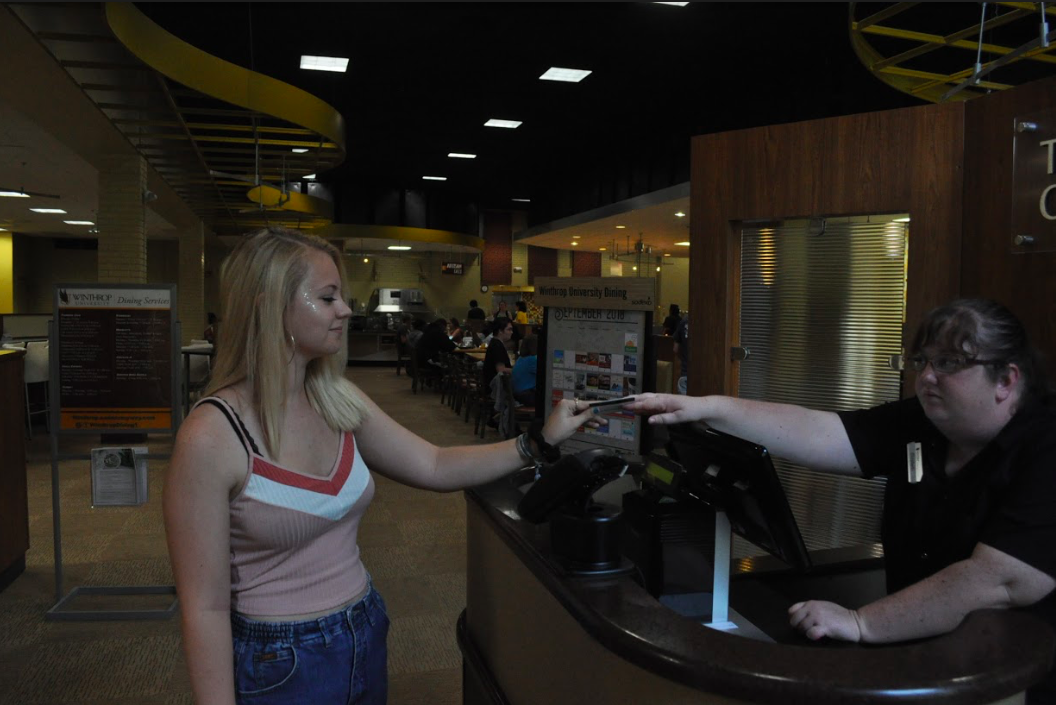 Winthrop University's new food service provider, Sodexo, has stirred up controversy on campus as many students debate whether the change is for better or for worse.
Mira Winchester, a sophomore business administration major, said she believes the change is for the worse. Winchester's petition includes a list of grievances with Sodexo including the lack of to-go boxes in Thomson, limited food options, the delay on getting the Cafe Cash deal with Domino's started up and the extra charge for cheese on sandwiches at The Grill.
To combat this, Winchester decided to start an online petition demanding what she feels would be a better dining experience.
"I started the petition because I felt that the food from Sodexo was limited. I was disturbed by the amount of beef they provided within a week. The lack of bread variety by the sandwich stand. Or the meat options to follow with. I was also disturbed that there was no to–go boxes, which was my favorite about having my meal plan" Winchester said.
A major issue Winchester said that she has found with Sodexo are the long lines at Thomson Cafeteria caused by the employees being trained to swipe IDs differently than the Aramark employees were.
Winchester posted a video of the new line process on Facebook. The video has since been deleted, however, it showed a student handing their ID to the employee in Thomson for a meal swipe.
"The video was to show this new process that cashiers must ask the students the type of meal plan they have, which option would they like to use, and make sure the picture of the person is them" Winchester said.
Many students have shared their opinions via the comment sections on Facebook posts. Others have signed the petition created by Winchester. Some have even expressed their disagreement with the petition.
"Also, this is a new contract, it's not going to be perfect as it's only just been implemented, but when enough students provide feedback, they will adjust. Dining was a lot harder when I was a freshmen and I've seen a lot of changes since then thanks to people speaking up. Kudos to you for trying to get things changed" Chelsei Jonel, a senior human nutrition major, commented on the Facebook petition.
Winchester hopes to get a revival of to–go boxes. Many students said that to-go boxes were a part of the old system that they wish would have stayed.
"I personally like Sodexo more than Aramark. I feel as though the quality of food has gone up and the hours are much more reasonable. I haven't in been in Thomson in a while, but the to-go boxes can be a little annoying. It seems like a minor issue though" Taylor Evans, a mass communication and theatre major, said.
Winchester met with the general manager of dining services, Bryan Harris, to discuss the changes, petition and she said that she is hopeful he will implement change to the system that is currently in store.
"I feel like the manager handled himself well and we were able to come to a common. He gave me a perception that he cares about our services and really fighting to get Dominos implemented back into our plan. He also told me he was unaware of the cost at Digs to add cheese" Winchester said.
Winchester explained she is not attacking dining services or Winthrop, she just wants change and is hoping students will help by signing the petition or sharing their opinions.
"If students have similar concerns, like myself, [they] should definitely address it. I'm all about making positive differences. I am an understanding individual. I wouldn't complain if I didn't think it was a need to. Aramark food wasn't the best all the time. Lots of the time I had to add my own seasoning. But, with Sodexo I feel like we lost a lot of services rather than gain," Winchester said.