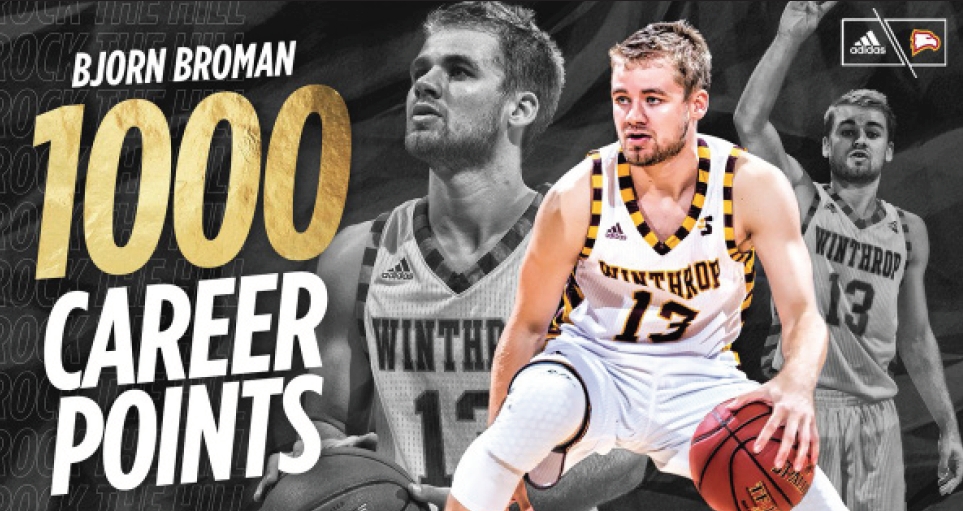 When it comes to athletes and their accomplishments, it is a remarkable feat to reach a milestone in their career that allows an athlete to be proud of their skills. Whether this milestone is in basketball, soccer or baseball, it is important to be proud of your accomplishments.
According to Winthrop Athletics, senior exercise science major and Winthrop men's basketball player Bjorn Broman scored 18 points during the quarter finals of the Big South Championship on March 7 against Charleston Southern. Although Winthrop lost the match 77-63, Broman reached a record with a lay-up and his combined three pointers throughout his athletic career with 1,000 points, becoming the 25th player in the program's history to reach that mark. Broman was thankful to the support of his team that led him up to this point.
"I feel very humbled and blessed to reach 1,000 points in my career, but I could not have done it without my great teammates and coaches," Broman said.
Starting basketball at the age of four while growing up in Duluth, Minnesota, Broman developed a passion for basketball with discipline while playing with his friends and teams.
"I value basketball because I have such a passion for it and I've put in so many hours. Since 7th grade, I've really taken basketball seriously and I've put so much into it that I just want to do the best I can," Broman said.
Before coming to Winthrop, Bjorn played for the Amateur Athletic Union Men's Basketball All-American while in Minnesota. The performance he did with his teammates in a tournament drew attention from various universities to recruit him for collegiate basketball.
"I played AAU summer basketball for a team called Howard Pulley out of Minneapolis, Minnesota, and we played in a tournament in August, and the coaches saw me there and started to recruit me," Broman said.
Broman eventually was recruited to join the Winthrop University men's basketball team as a point guard in his freshman year of 2015. He was impressed by the closeness of the student athletes and the facilities on campus.
"The campus here at Winthrop impressed, and the whole community made me feel very comfortable," Broman said.
While at Winthrop University, Bjorn excelled at basketball with multiple highlights in each year on the team. In his freshman year, his first 43 three pointers were the fourth most threes in a season by a Winthrop freshmen. In his sophomore year, Broman finished the season with 16 points (seventh career double-figure game) and tied career-high with five assists at FSU. His junior year saw him becoming the 20th player in program history to reach 100 career threes in his career. Broman noted that his fellowship with his players and the games he played through his time at Winthrop made his experience at the university all the more memorable. 
"My fondest memories at Winthrop are playing alongside my brother and being in the starting lineup with him, as well as making March Madness my sophomore year," Broman said.
Despite the defeat the quarterfinals, Broman is proud to have worked with the Winthrop men's basketball team and valued how his teammates and coaches worked hard together to help him strive to improve himself in basketball.
"I'm sad the season ended earlier than we would have liked, but I am very proud of the team and how much we accomplished throughout the year," Broman said.