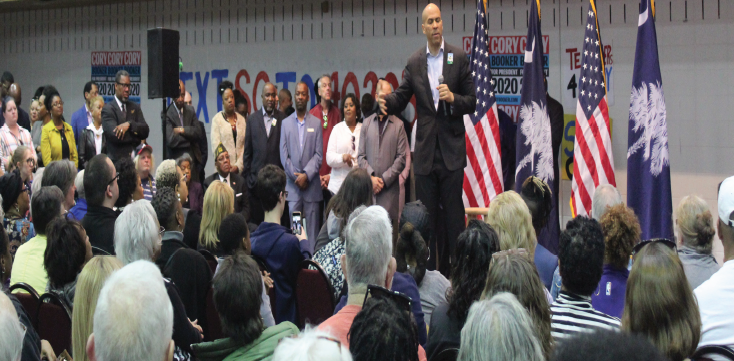 Sen. Cory Booker made a campaign stop in Rock Hill Saturday at Freedom Temple Ministries to present his platform for the 2020 presidential election and meet local voters and leaders. 
Booker emphasized the importance of understanding American history and how it affected government policies and decision making.
"Don't let folk whitewash our history or simplify our history," Booker said. "We as leaders have challenged the conscience of this country and demanded that everyone be a part of the change."
Booker also addressed the country's declining life expectancy, increase of opioid addiction, suicide and mental health and other issues.
"There's a crisis when… our nation, the wealthiest nation on the planet earth has the highest infant mortality rate in all developed nations, the highest maternal mortality rates," Booker said. "There is a crisis in our country when dignity has been so stripped from work that people who have worked their entire lives don't seem to retire with security."
During the event, Booker answered the questions of a diverse group of citizens from older veterans to young children. Some voters said Booker's platform concurred with their own political concerns.
Rock Hill native Linda Stewart attended Booker's campaign with her husband. She said they always go to various democratic candidate campaigns to hear the different candidates' platforms. 
"I was really impressed with [Booker]," Stewart said. "He said some things that I agree with and I'm hoping he will get a chance to enact some of the things that he talked about." 
Malik Frazier, a student body vice president candidate and current civic engagement chair for Council of Student Leaders, was in attendance. Frazier serves as the second vice chair of the York County Democratic Party and his role during the campaign was to overlook the crowd and maintain distance between the crowd and Booker.
"I think it's very critical that [citizens] start to be civically engaged because it's about the issues; we have a lot of issues that's facing our country. It's time to get this country back on track."
Frazier said he felt the campaign in Rock Hill went well for Booker. 
"Cory Booker resonates well with a lot of South Carolinians. He understands our stories, he understands what's going on here in South Carolina and he has a passion to get those issues fixed," Frazier said.
Some voters from other areas came to Rock Hill to see the candidate speak and to learn more about him. 
Luke Drago, a Charlotte resident, said the 2020 presidential election will be his first time voting. Drago said he came to see Booker because he was not sure who to vote for yet. 
"I had not considered Cory Booker that much before I saw him speak," Drago said. "After seeing him speak and after hearing his policy agenda more clearly laid out and after asking questions, he's in my top five." 
Prior to being a senator for New Jersey, Booker served on the city council in Newark, New Jersey and was elected mayor for Newark in 2006. Booker served as mayor for over seven years. Booker currently serves on several committees such as the U.S. Senate Committee on Small Business and Entrepreneurship, U.S. Senate Committee on Foreign Relations, U.S. Senate Committee on Environment and Public Works and U.S. Senate Committee on the Judiciary.
Booker is one of 17 democratic candidates for the 2020 presidential election.