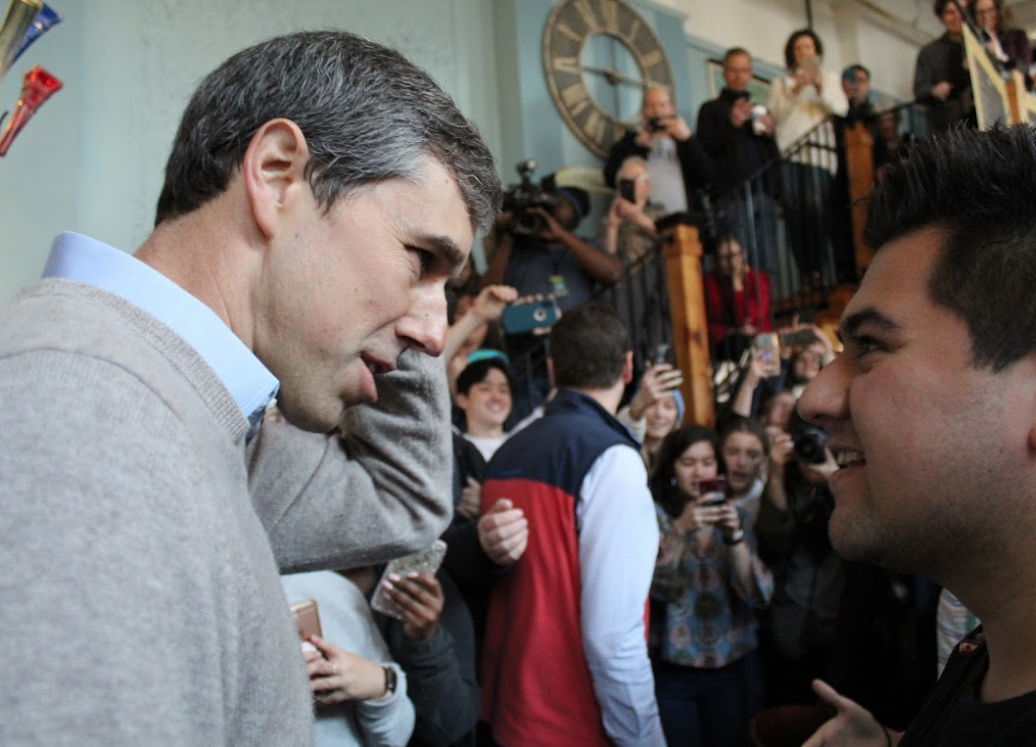 "Beto! Beto! Beto!" 
Residents of Rock Hill crammed into Amelie's French Bakery Friday, March 23 to hear democratic presidential candidate Beto O'Rourke speak about his platform. Anticipation was growing as the time for the former U.S. Representative from Texas to speak came closer. As O'Rourke rounded the corner, chanting broke out to welcome the candidate.
O'Rourke entered the bakery through a small parting in the crowd, reminiscent of the parting of the Red Sea. He shook hands with ecstatic fans and took selfies with the crowd that had been waiting for his arrival for upwards of an hour. The candidate hopped up on a chair with no microphone. His raspy voice, worn from eight days of campaigning, addressed the crowd. 
"We've been on the trail for all of eight days…getting to meet the very people who I wish to serve by first listening to them, learning from them, understanding the challenges and opportunities we face as a country from the perspective of those who are living them, who understand them and who want to share them with me, regardless of political affiliation, regardless of geography, regardless of race or faith or gender or sexual orientation," O'Rourke said. 
O'Rourke opened with his thoughts on the economy, saying that it "works too well for too few" and the privileges of a successful economy are not shared by all. O'Rourke hopes to fix this if elected. 
"We must now make sure that we invest in people, not corporations, in communities, not special interests, and ensuring that all who work are paid a living wage," O'Rourke said. 
The candidate made an example of teachers, who are currently facing issues with fair compensation. If educators are not being paid sufficiently, the students are the ones who will suffer. 
"That child, their lifelong love of learning with that teacher and that educator can unlock, but if she's working two, three jobs just to make ends meet and provide food and housing for her own child, it's going to be hard for her to do that," O'Rourke said. 
O'Rourke addressed the issue of potential deportation for DREAMers, "our fellow Americans in any way that matters." 
"Not only are those DREAMers in our classrooms, those dreamers are teaching in our classrooms. Not only are those dreamers defended by the brave women and men serving all over the world in our armed forces, those dreamers are serving all over the world in our armed forces," O'Rourke said. 
O'Rourke adamantly opposed the border wall that has been proposed by President Trump. He said the wall is unnecessary because we are in a "time of record safety and security along the U.S-Mexico border." 
"Here's how we get safer and better: free every single dreamer from fear of deportation by making them U.S. citizens," O'Rourke said. 
O'Rourke voiced his support for reforming the criminal justice system, a system that has historically targeted people of color. 
"We have got to acknowledge a criminal justice system in this country that has produced the largest prison population in the world, disproportionately comprised of people of color. So many there for nonviolent drug crimes, and though Americans of all races and ethnicities consume illegal drugs at the same rate, only some are more likely than others to be arrested," O'Rourke said. 
"Not only is this grossly unfair and hugely expensive, but we are losing out on the potential of everything that every incarcerated man and woman, more likely than not of color, is supposed to do in their time on this planet," O'Rourke said.
He also mentioned climate change and how environmental devastation will only persist if action is not immediately taken. 
"The wildfires in California, the floods in Nebraska and Iowa, 58 inches of rain that fell from the sky in Houston, Texas which was the greatest amount in recorded history in the United States. [It] was also the third 500 year flood in just the last five years. The droughts through which our farmers and our ranchers and our producers persist, those droughts will become more frequent, more devastating, more profound, will undermine our ability to grow our own food and fiber to feed and clothe, not just the United States, but so much of the rest of the world," O'Rourke said.
O'Rourke called on both parties to work together to create meaningful initiative to counteract climate change.
"Those scientists also tell us we have 12 years within which to act and given the gravity of the consequences, this kind of devastation and natural disasters and death and suffering that we endure right now, will only become worse. It will become much worse unless we take action. We cannot meet it by half-measures or by half the country. This cannot be a Democratic or a Republican party solution," O'Rourke said.