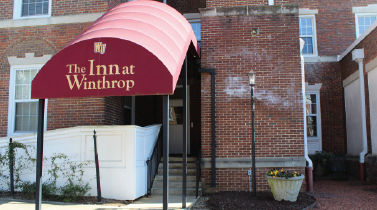 Winthrop University's accommodations for visiting families and prospective students is shutting down after running for nearly 16 years. 
Located in Joynes Hall is Winthrop's motel, The Inn At Winthrop. Opened in 2003, its main purpose was to accommodate parents and guardians who wanted to be closer to their children without paying steep hotel prices. It also accommodated travelers, participants of the U.S. Disc Golf championship hosted at the Winthrop Coliseum, those who were a part of the national psychology association, international teachers and more. 
Before Joynes held Admissions and The Inn, it first was established in 1926 as a teacher's dormitory. In 1965, Joynes Hall was converted into a student dormitory due to increased freshman enrollment. From 1969 to 1973, international students were housed in Joynes when the building was converted into a center for the Winthrop outreach program and the center for continuing education. After doing so, renovations were made to dismantle a few of the suites on the first floor to create conference rooms. In 2003, Joynes was converted into housing for admissions and The Inn at Winthrop. 
According to the Winthrop University Archives, "designed in the Neo-Georgian architectural style, Joynes Hall (1926) offers the conveniences and amenities of a modern lodging facility, but in a historic, traditional setting… Dr. Edward S. Joynes, its namesake, was a charter member of the board of trustees and one of the guiding forces behind Winthrop's founding in 1886." 
Kelly Shelton, Winthrop's housing specialist, stated the reason for the closing is "because we're going to have competition downtown, and we can't provide the amenities that other hotels can provide. They're bringing alumni to this building and converting it into the Morgan Holcomb Alumni Center. So they'll update Joynes and dismantle The Inn." 
Shelton has been at Winthrop for 33 years and said she has enjoyed the benefits The Inn brought to campus. 
"No we don't make a million dollars, there's 12 rooms, but I do make a profit, and it's convenient for the parents, especially if their son or daughter lives in Phelps or Lee Wicker. It was also super convenient for the many conferences that Winthrop holds, from group singers, to Model UN groups and members from Winthrop's board of trustees," Shelton said. 
The Inn will be closing July 1 of this year.