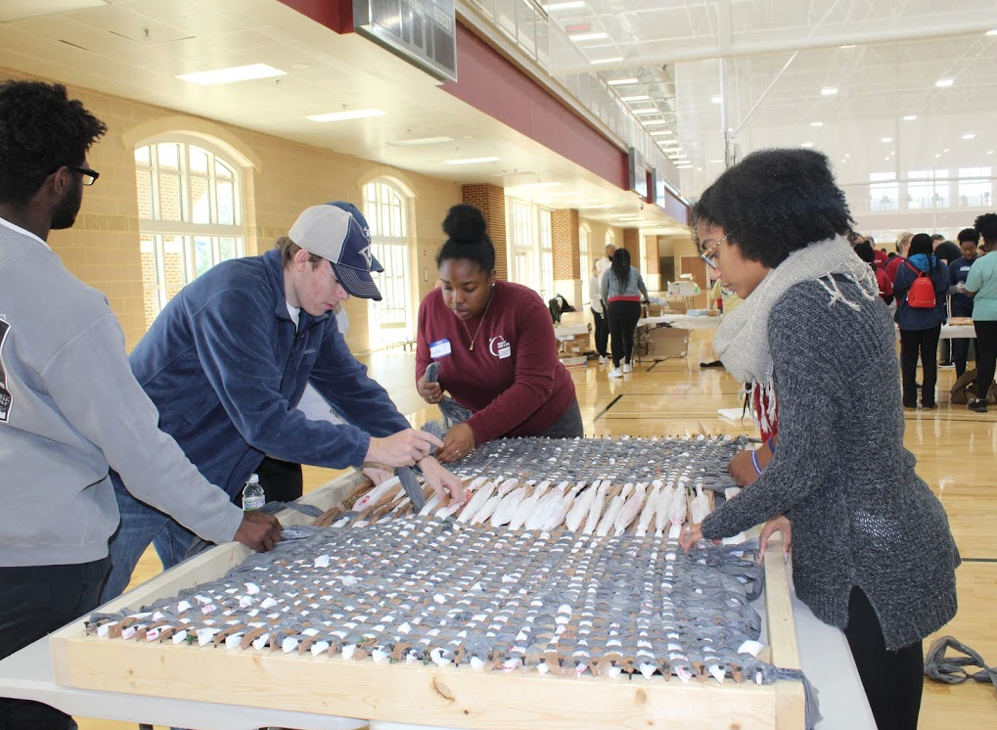 About 300 volunteers joined forces on the Martin Luther King Jr. holiday to participate in the annual MLK Day of Service project.
President Dan Mahony opened the day of service at 10 a.m. in Richardson Ballroom followed by a medley from the Vision of Prayze Gospel Choir.
Volunteers then listened to a brief speech from Winthrop alumna Emily Price, the administrative assistant, volunteer coordinator and social media specialist for Pilgrim's Inn.
Price shared quotes from King including, "What are you doing for others?" This was the motive of the MLK Day of Service.
Volunteers from Clinton College and York Technical College assisted Winthrop students, faculty and staff with the service project.
Temekia Boler, director of student activities at Clinton College, brought Clinton students and her son, a senior at York Comprehensive High School, to volunteer with her. Boler said she and the students were happy to work with Winthrop and serve the community in honor of King.
"It just helps us to remember that those who are less fortunate than us. It is our job and our duty to make sure their lives are a little better. We just appreciate the opportunity to serve," Boler said.
Volunteers prepared 4,000 snack bags, 1,800 sandwiches and eight sleeping mats. The mats were made from recycled grocery bags, which equaled to 8,500 bags saved from a landfill. All remaining grocery bags were recycled by Walmart.
Snack bags, sandwiches and sleeping mats were donated to Urban Ministries in Charlotte, which serves 350 people each day.
Sandwiches and snack bags were donated to Renew Our Community, or the ROC in Rock Hill, said Laura Foster, the director of community service for Career and Civic Engagement.
The Men's Warming Center, the York County Council on Aging, Hope House, the Salvation Army and the Veterans Affairs office all received snack bags with fruit, nuts and pretzels.
Margaux Parmentier, a junior mass communication major, helped make sandwiches and write positive notes for people in need. Parmentier said this was her first time volunteering for the MLK Day of Service, and she enjoyed the opportunity to help others.
"It was a really nice experience because you can share special moments with other people. It was important to share this with the community of Winthrop," Parmentier said.
Dionte Darko, a junior theatre major, said the day of service was "pretty productive." Darko praised his group for the teamwork and cooperation during the project.
"I'm glad we did it as a group because unity is needed in the community for us to gather and become one to help the homeless and anyone that is less fortunate," Darko said.
Photos courtesy of Oriana Gilmore