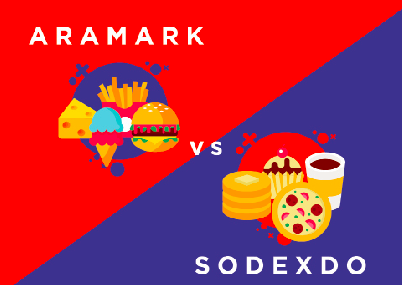 The new names and signs in Thomson Cafeteria and Markely's can only mean one thing: Winthrop has a new dining services provider. In August, Winthrop was bid farewell to Aramark, as their previous 10 year contract had expired.
After the expiration, Sodexo put up a bid, and our voting council welcomed them to the Eagle nest. During this big change, there were only four of our eight dining facilities that were untouched in terms of food choices: Starbucks, Chick-Fil-A, Einstein Bagel Bros. and Subway.
For those of us with meal plans, namely Eagle meals, this affects us 100 percent. However, this change does not have as large of an affect on those without meal plans or who primarily use cafe cash.
The most obvious difference is the name changes: Tres Habaneros, Farmers Field, The Grill, and Mein Bowl.
There are new food options as well. The problem that most people have with this is that most of these new options don't appear as Eagle meals. For instance, Tres Habaneros still serves taco salads and tacos and they've added quesadillas, rice bowls and enchiladas.
Farmers Field still serves salads and have added pizza, strombolis and breadsticks.
The Grill still serves cheeseburgers and french fries but have added chicken tenders, grilled chicken sandwiches, tater tots and onion rings. Mein bowl [is removed] still serves asian cuisine.
Sodexo has changed a lot since their arrival. But was the change favorable for the Eagles that have already been in the nest? Senior finance major Annabeth Harris said "[The change] doesn't really affect me since I didn't get a meal plan. I usually only go to Chick-Fil-A or Starbucks if I do eat on campus."  Harris doesn't see a problem with the new provider, but not all of our Eagles feel the same way. Sophomore business major Mira Winchester had a lot to say about the new change. "I don't like the lack of variety, meals, the lack of nutritional options and the constant cooking of beef. I don't like the over processed meals. Also I don't like that we don't have to go boxes [in Thomson]. I don't like the lack of food choices [when it comes to southern culture]. It feels like they don't provide enough southern style meals, I mean Aramark wasn't the best but it was better. I would recommend Aramark, I wish they could come back now because as a sophomore I'm starving," said Winchester.
While some of the Eagles in the nest are stirring over this new change, some of the Gamecocks in Columbia, SC are just as 'shook' over this new change. It seems as we've done a 'swap' with the University of South Carolina in terms of dining service providers. Last school term, Sodexo was the dining services provider for USC. Now, USC bids farewell Sodexo and says hello to Aramark. Sophomore public health major Karla Matthew-Brown said, "I feel the switch gave me better options, like now we have a Panera Bread…..I prefer Aramark because now we have a variety of things to choose from and they've improved the food they were making last year. I also like how the new design at Russell [dining hall] makes everything look so sleek and nice." Junior psychology major Kayla McBride said, "The switch is something to get used to. I prefer the better food this year, in some aspects it's better but then again it could use some improvements. The new company is offering better and healthier food choices so yeah, the new company."
Overall, Eagles are showing mixed feelings about Sodexo. Will they win out over Aramark, or will they be doomed to live forever in its shadow?