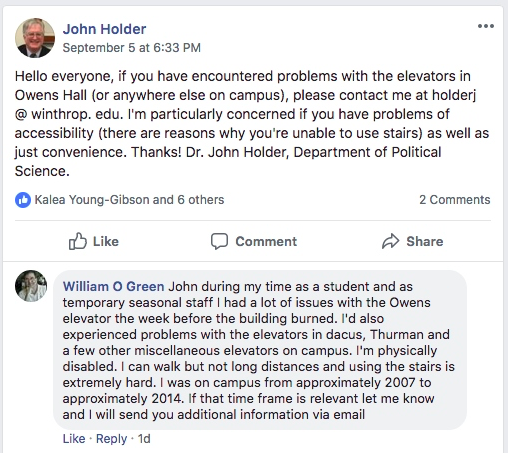 Classes were forced to relocate after the elevator in Owens was down last week. John Holder, a political science professor at Winthrop, reached out to students and faculty on Facebook in response to the incident.
Holder noted that a manufacturer was on campus on Sept. 6 to work on the Owens elevator, and as of Sept. 7, it was fixed. The elevator in the DiGiorgio Student Center was also being repaired on Sept. 7.
"This semester, I'm teaching two students who use wheelchairs. All four of my classes were originally located in Owens," Holder said.
Holder received an email on Aug. 21 from one of them telling him that she hadn't been able to come to class because the elevator wasn't working. After the student contacted the Office of Accessibility, the class was moved to Kinard. At the end of that week, the Owens elevator was repaired, however, he found out the week of Sept. 3 that the elevator was down again.
"The other student couldn't make it to her class. We got that class moved that same afternoon," Holder said, "It just irritated me that the elevator apparently hadn't been repaired properly, because our students have a legal right to an accessible education."
Holder took to Facebook, posting in various Winthrop University class groups to see if other people had encountered similar problems.
"Within 12 hours, I'd heard from 11 students and two faculty members who have had problems because of that elevator. It's not just wheelchair users. There are people who don't necessarily have documented disabilities who have trouble with the long, steep flights of stairs in Owens, and it's a real hardship for them to get upstairs if the elevator is out," Holder said.
Two of Holder's classes are now in Kinard, where the elevator "is old and slow but it works," he said.
Senior history major, Nicholas Arnold, uses a wheelchair and had a couple incidents with the elevators in both Kinard and Owens.
"First time, I was on the second floor and had to wait for someone to come get me and ended up being late for my class in Kinard. The second time, I was trying to go to class in Owens but could not go up, and I waited patiently for someone to come reset it," Arnold said.
No one came for Arnold, and his professor had to send a group of students to meet him in a conference room in Bancroft to continue the rest of the class that day, according to the senior.
"Luckily, the Office of Accessibility was able to move my classes around eventually, and while it is unfortunate and slightly an inconvenience to everyone who had to move, I'm just glad there is another solution. I just hope they can get a permanent solution," Arnold said.  
Jay Grice, a senior political science major, responded to Holder's Facebook post in the Winthrop University Class of 2019 group.
"This is an issue at the same school that moved the Office of Accessibility from the ground floor of the Health Services building to the THIRD floor of an annex predominantly consisting of professor offices… never understood that one," Grice said.