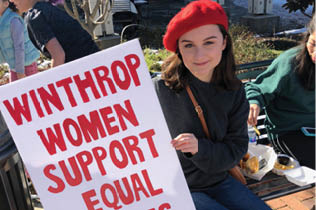 The City of Charlotte hosts its own chapter of worldwide peaceful protest
"We stand together in solidarity with our partners and children for the protection of our rights, our safety, our health and our families, recognizing that our vibrant and diverse communities are the strength of our country." – Women's March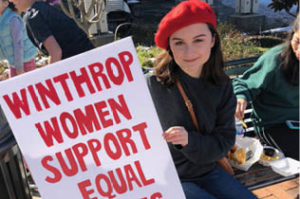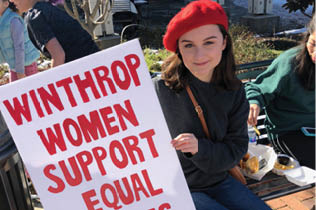 Following President Trump's inauguration in 2017, thousands of people marched through uptown Charlotte to raise awareness of women's rights issues and to show solidarity with other marches across the country. Charlotte-Mecklenburg police estimated that there were at least 10,000 people in attendance. People marched peacefully and held signs such as "We the People" and "Build Bridges, Not Walls."
The march returned for its one-year anniversary on Jan. 20 and was dubbed "Remarchable Women."
"This year we've rallied, we've marched, we've held town halls, we've huddled, we've written postcards, and we've run for office in bigger numbers than before," Bob Bland, a co-founder of the original march, told HuffPost. "All of it was culminating in this moment, which is the anniversary of the Women's March, where we convert our collective power that we all felt last year on Jan. 21 into a groundswell of political power."
The march kicked off at 10 a.m. with The Speaker's Forum, which was meant to represent Charlotte's diversity and vocalize the march's goal of equity and equality for all. The speakers included Vi Lyles (Charlotte's first female African American mayor), Zach Thomas, Jan Anderson (President of Charlotte Women's March) and Rose Hamiid and provided strategies for the crowd to make a difference in their own communities.
At noon, participants walked from First Ward Park holding up their signs and chanting in unison through the center of uptown Charlotte. Less than a mile later, the march concluded at Romare Bearden Park.
Many Winthrop students, including Annslee Smith, a freshman biology major, participated in the march.
"I had a really positive experience," Smith said. "It was amazing to connect with other people with similar views and see what other people from very diverse backgrounds had to say. I enjoyed being able to participate and support my views alongside my sister, mom and thousands of other people. There were so many different issues that this march was responding to and most people only had one sign. It kind of gives you a chance to think about which issues people choose to protest or support. I think it's always special to be a part of something bigger than just yourself."
The purpose of the march was to unite communities and to continue to empower grassroots change.
"Charlotte Women's March will advance sustainable engagement for change and parity with opportunities for all," said a coordinator of the march. Coordinators worked peacefully to send a bold message to elected leaders — that women's rights are human rights.
However, many wonder, why hold it another year? Why round two?
"The whole point of the Women's March is for women to take agency over their own lives," Bland said. "We are the leaders we've been waiting for. Now's the time to step up."