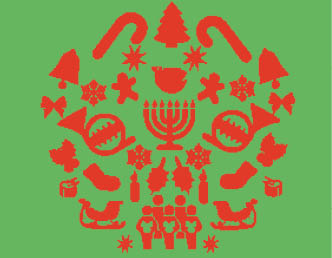 How traditions are changing with the times
Some holiday traditions are quickly becoming far and few between as families replace them with newer and more innovative ways to celebrate their holiday. But these changing traditions are not necessarily a bad thing. They can make the holiday season more fun for everyone in the family and bring new life to the old celebratory traditions.
One of my favorite tradition renovations is how my own family chooses to spend Christmas Eve. We start with a seafood boil, then buy eggnog milkshakes from Cookout and spend the night together at my grandfather's house watching the movie Elf as a family.
Some traditions can be overwhelming on the entire family by stressing everyone out even more. If families decide that Christmas caroling is too stressful and tiring, there's no reason not to replace it with something more understated. Instead, play Christmas music in the background while opening presents on Christmas day.
It can be hard to let go of old traditions around the holidays. Some families choose to open one present on Christmas Eve before bedtime and traditions like these are great. They have purpose and meaning, but the next generation should be able to establish some traditions of their own. There's nothing wrong with practicing old traditions, but there's also nothing wrong with adding new traditions that the family can enjoy.
Some families do newer, technology based things like tracking Santa for the kids on the night before Christmas. While some choose to enjoy different kinds of foods during the holidays than what is normally enjoyed by traditional families. In some Mexican homes, families enjoy oyster stew on Christmas Eve.
There are a number of reasons why people would consider changing or improving on holiday traditions. If they simply don't make the family happy anymore, change them to something that they can get excited about.
Families can get so focused on participating in the traditions that they forget to focus on the most important part of the holidays, enjoying the time spent with your loved ones. This applies much more intensely for a lot of college students. Many don't get to spend very often with their families due to being at school for a majority of the year. This means that there needs to be an even bigger focus on what really matters: family.