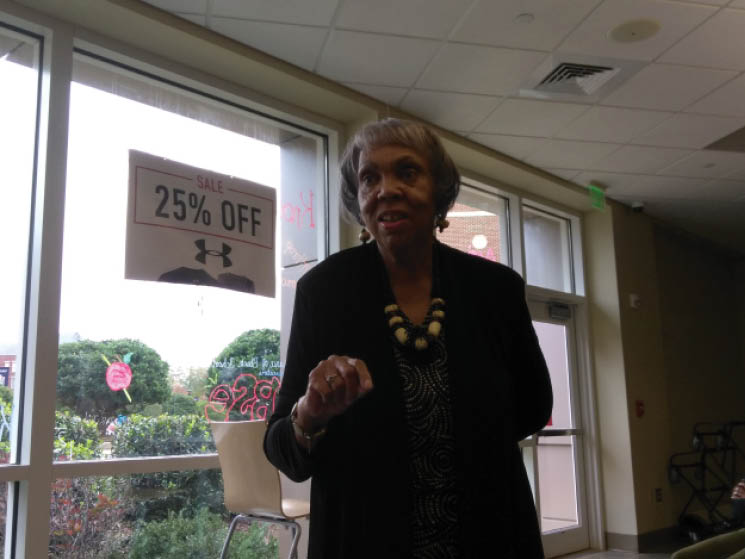 First African-American female student enrolled at Winthrop shared her wisdom during Homecoming week
Cynthia Plair Roddey returned to Winthrop to talk to current students, alumni and faculty about her experiences as the the first African-American female student to enroll at Winthrop and to touch on the current state of the country.
The Department of African-American Studies, the Department of Women and Gender Studies, the Office of Interdisciplinary Studies and the Office of Diversity and Student Engagement sponsored the event.
After 30 years of teaching, from kindergarten to the college level, Roddey retired and emailed Jennifer Disney, the chair of the political science department, and Kinyata Brown about coming back to campus.
"I think that gives a sense to her spirit and giving to Winthrop University by reaching out to us and saying 'If you need anything, just let me know,'" Brown said, an assistant dean of the Office of Diversity and Student Engagement.
Roddey said she did not return to Winthrop until her 45th reunion due to fear of rejection. Nobody in her graduating class was at the reunion, but she said that she befriended some undergraduates.
"I feel like Winthrop has embraced me. Every time I come on this campus, I will feel welcome," Roddey said.
Roddey began her talk by highlighting some accomplishments and "darker" events in 1967, the year she enrolled at Winthrop. The main message was the cost of war on a country, especially in the U.S. She noted the Vietnam War and the Six Days' War in Pakistan and Israel as examples.
"When you put … billions and billions of dollars … into the military, you are siphoning away from social issues that needs to be taken care of," Roddey said.
According to Roddey, the U.S. is involved in conflicts in five to 75 countries today.
"Our country is falling down around us.  The bridges are falling down. The schools are dilapidated. Our healthcare system is in a bad situation. But we're spending billions and billions of dollars on blowing up someone else's country," Roddey said. "In the next 50 years from now, what kind things will you do as legislators, governors and leaders of your community so that we will be at peace?"
She used ISideWith.com, a website about voter engagement and education, to discuss the most popular social issues of 2017 in the U.S. for most of her presentation.
Some of these issues included abortion, health care providers and free birth control, gender and gay rights, women and transgender people serving in the armed forces, women in the workplace and Confederate monuments.
"These are issues in 1967 that we're still seeing today," Roddey said. "We need to redefine what marriage and what the family unit is … We need to take out this gender discrimination … We have to look beyond the gender … and the race."
Roddey said the discussion about the niqāb, a face veil for women in Islamic culture, reminded her about the afro hairstyle in the 1950s and 1960s.
"People saw that as being rebellious, but was pride!" she said. "The afro pick was considered a weapon. Students could not take it to school."
Roddey said she acknowledged her own personal biases regarding how people dress and their hairstyle.
"That is something I'm really really working hard on now — getting to know people for themselves. It's not about what you wear, and how you look, but it's important," she said.
For example, Roddey noted that one should not wear flip flops to a job interview.
"You have to play the game. Life is a game, and there are rules. And somebody has changed the rules," she said. "You're going to have to anticipate what the change is going to be and be flexible enough, without compromising your values, to play the game if you want the money."
Roddey also discussed "the miseducation of America," particularly about spoken and unverified claims on national television. She emphasized the importance of verifying arguments with research and being politically active by voting.
"You can't complain about what's going on if you have not spoken, and the vote is your voice," she said.
Roddey graduated from Johnson C. Smith University, a historically black university, with two bachelor's degrees. Roddey was also the first African-American female graduate student at Winthrop and received her master's degree of arts in teaching in library science.
Before her retirement, she was the co-chair of the liberal arts department at Clinton College.
The Roddey McMillan Record, the monthly diversity newspaper at Winthrop, was named after her along with Sheila McMillan, the first African American female Board of Trustees member. She was a panelist at the Women's First event in March, hosted by the Women's Coalition.
Roddey said that she has hopes for the audience — the younger generation.
"I refused to believe, with all of these brilliant, curious, wonderful young people that we have, that we will have these same conservations in the next 50 years," Roddey said. "You are going to be the new day, the brighter day, a better day."