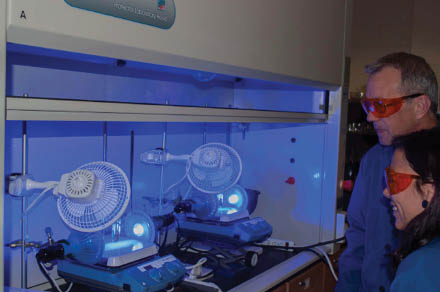 Artificial photosynthesis research conducted at Winthrop
The American Chemical Society for Petroleum Research has awarded a major grant of $70,000 to James Hanna, a professor of chemistry at Winthrop, and some of his selected students for research.
Hanna described his research as a type of artificial photosynthesis.
"We're using light energy to build organic molecules in the [Sims Building] lab." he said.
The grant is for three years and Hanna will be conducting his research alongside his students.
"The grant program actually requires that 40 percent of the money goes toward undergraduate students," Hanna said.
Everyone who works on the research with Hanna is an undergraduate and they are typically invited to join research projects, such as this one, by the professors on campus.
"We have a very active undergraduate research program here on campus in the biology and chemistry departments," Hanna said.
The students in these departments usually hear about the programs and express their interest in joining to one of their professors.
"Other times, professors identify particular students who might be interested or very high-performing in class and will encourage them to do research," Hanna said.
Brittney Ciesa is a senior chemistry major at Winthrop who will be helping Hanna with the research funded by the grant.
"I was asked to join this project, and I haven't really heard of many other ways to join," Ciesa said. "There is also no physical application or anything like that and word-of-mouth is the main way to join research projects."
Hanna said there are many reasons that this specific research was chosen.
"It is mainly because it was interesting, fundamental research and there were some questions regarding the utility of this particular kind of approach that we wanted to answer," Hanna said.
The compounds made by the process are typically found in pharmaceuticals.
"We're devising new methods to make biological active compounds but the method could be used to make a variety of things beyond that," Hanna said. "The particular compounds that we're making happen to be an important structural unit in many of the top 100 pharmaceutical sells out there. We're really interested in the fundamentals of the research, how we take light and build molecules or make things happen?"
Hanna's methods have already been proven to work so that they are able to make the reactions occur.
"Right now we're optimizing the process trying to figure out where are the boundaries, where it can be used, where it can't be used, where it succeeds, where it fails," Hanna said.
"I decided to join this project because I personally understood more and I didn't want to dive into something I didn't know too well for my first research project," Ciesa said. "I think this is really cool because we get to make things that no one else has done. This project is also great to addition to my resume."
Hanna said a benefit to joining a research project here on campus is that hands-on training is applicable across all scientific fields. You get to learn to think, reason, solve problems, gather information, formulate hypotheses, design experiments and use statistics to look at the results.
"Because we're using a light to drive chemical synthesis, ultimately we hope that we won't need light bulbs and we can just use sunlight, and since a lot of chemical energy is done at manufacturing factories that use a lot of energy and burn fossil fuels, perhaps one day it could help replace fossil fuels in the chemical industry," Hanna said.