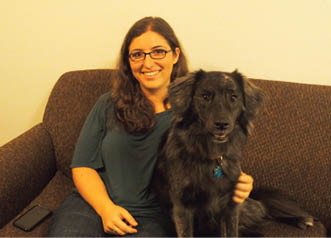 Emotional support animals become more popular on college campuses
This year, the Office of Accessibility counts three dozen approved emotional support animals (ESAs) on campus and around six to 10 service dogs. That is 46 approved pets and 184 paws. However, illegal pets have to be taken in consideration and might cause the total to be greater. ESAs on campus aim to provide comfort for students with disabilities.
The job market and economy, among other factors, have been putting students under more and more pressure. To face this pressure, more have turned to medication to cope with this stress, and many are now considering other types of therapy including animal therapy.
For students who might need their fix of fluffy time every once in awhile, therapy dogs come to campus the first and third Wednesday of each month from 11-12:30 p.m.
For others that might need daily support, they can apply for an ESA to bring their pet on campus. This type of therapy can be really effective and helps make campus seem more homelike.
Aleyna Dolan got her ESA dog, Akela, a year ago to cope with her anxiety and has now completely stopped taking her medication.
"Akela became my ESA last October," Dolan said. "The main reason why I took her was that my dad was moving and I wanted to keep her nearby. At the time I was still taking medicine for my anxiety, so coming back for junior year, I was going to be separated from the dog I just got close to. That was a really stressful time."
Akela has helped Dolan and  she has noticed an increase of pets on campus. The presence of more ESAs inevitably affects campus life, but it seems that there are few cases of neglections of pets or disturbance due to them.
"It's really nice having an animal on campus," Dolan said.
The support of pet friends can be a solace to many. But it is important to remember that no matter how big and brown their eyes might be, ESAs are still animals that need attention, medical care, food and in the case of dogs, walking.  ESAs are not toys but a form of therapy. The relationship between a pet and a person is a two-way street. They give as much as they receive and are a responsibility that must be thought through properly.
"The biggest issue was that I can't stay the night out, unless I go to an apartment where I can bring her because she is fully my responsibility," Dolan said.
You can get more information about ESAs at the Office of Accessibility in Bancroft 307. Information sessions are now organized to help students figure out what taking care of a pet really entails.