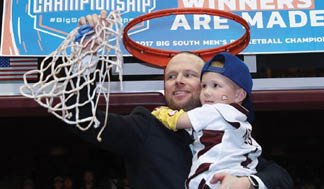 Winthrop basketball coach Pat Kelsey received a five-year contract extension from the school. This contract runs through the 2022 season. Kelsey has spent the last five years as the head coach for the Eagles.
He led the team to a 26-7 record last year, earning a regular season championship, in addition to hosting and winning the Big South Conference Tournament. This qualified them for the NCAA Tournament.
Overall, Kelsey has a 102-59 mark in five seasons with the Eagles. Winthrop athletic director Ken Halpin said Kelsey has infused the program with high character in addition to on-court success.
"Over the past five seasons, Coach Kelsey has led our men's basketball program to unparalleled growth in a systematic and methodical manner," Halpin said. "Through his leadership our program experienced incredible success on the court last year, which culminated with getting Winthrop back into the NCAA Tournament."
Kelsey initially took a job offer with the University of Massachusetts last March, but had a change of heart and decided to return to Winthrop.
"I am blessed and honored to be the head basketball coach at a world-class university with an elite basketball tradition," Kelsey said. "Winthrop is a special place. My wife, Lisa, and I love being at Winthrop and raising our family in Rock Hill. I would like to thank Dr. Mahony, Dr. Halpin and the Board of Trustees for their leadership, support and most importantly their belief in me."
In response to the five-year contract, Halpin says that Kelsey's success on and off the court is a true testament to his coaching ability.
"What is not discussed enough is the impeccable character Coach Kelsey has displayed and instilled into this program," Halpin said. "In addition to the on-court success, our basketball student-athletes are first-class citizens within the Winthrop and Rock Hill communities, and also recorded the highest cumulative GPA in the program's history last season.  It would be an understatement to say that I am excited we are taking this next step to having Coach Kelsey lead this program into the future."
With Winthrop earning its first NCAA Tournament appearance in seven years last season, Kelsey is excited for the future of the team. He prides his teams on toughness and grit on the defensive end and an exciting "downhill" style of basketball offensively.
"Due to the hard work of our players and amazing staff we have enjoyed great success on and off the court over the last five years," Kelsey said. "I believe the best is yet to come. Rock The Hill!"