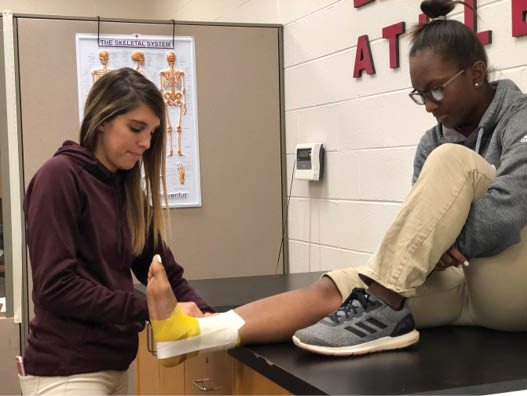 Graduate student and athletic trainer Lizzy Daidone takes the health and safety of the Eagles to heart
This week's eagle of the week isn't your typically highlighted Winthrop athlete. Instead, graduate student and athletic trainer Lizzy Daidone is our outstanding member of the athletic department.
Daidone is currently pursuing her master's degree in sports and fitness administration. She earned her undergraduate degree at Lynchburg College in Virginia where she studied athletic training. Daidone works with the women's soccer and women's tennis teams at Winthrop.
Her daily responsibilities include being at every practice, lifting session, and game and conducting rehabilitation sessions for individual athletes as well. Daidone has helped countless athletes come back from injuries, and
this is what she says is the most rewarding part of her job; playing a role in an athlete getting back to what they love. The long hours of late night practices, late games and early morning weight room duties are what Daidone says are the hardest part of being an athletic trainer.
"I love sports and I get happiness from helping keep athletes healthy," Daidone said. "I was looking for G.A. positions and once I interviewed with the staff, I knew Winthrop was the place for me."
Her personality and ability to think on her toes is what sets her apart from other athletic trainers. A large role of being an athletic trainer is not just knowing the ins and outs of different injuries, but also being emotionally available for athletes. Daidone excels at talking them through their problems outside of their sport to help them perform better on game day.
"Lizzy has become more than just an athletic trainer to me. She has helped me through countless injuries and I wouldn't be the athlete I am today without her," said Winthrop women's soccer player Kendall Roberson.
Since being at Winthrop, Daidone has helped the women's tennis team to win a Big South Championship. She also assisted the women's soccer team in making it to the Big South Conference Tournament.
Daidone's last semester as a graduate assistant will be in Spring 2018. She is hoping to continue her career at the collegiate level by finding a university to work for in the South.