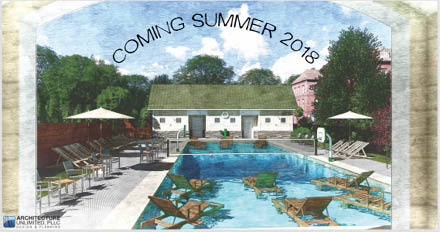 New outdoor area including pool and small gym coming to Campus Walk plus new leasing options
A new pool, outdoor area and small recreation center will be coming to the Campus Walk apartments this summer, according to Julie Smith, VP of Marketing and Leasing at Walk2Campus at Winthrop.
"We thought it was appropriate for this market to have an outdoor space to hang out, enjoy a good time with friends but also still be close to campus," Smith said.
Other Walk2Campus properties have outdoor area amenities, such as the ones at Coastal Carolina University.  The outdoor amenity area, which will have all the new features, will also have a picnic area, a big screen TV, cornhole and other outdoor games.
"If students want to hold events, watch a game outside, they have an outdoor area to go to," Smith said.
The recreation area will be a small room with "a few pieces of cardio equipment and free weights," according to Smith. They recognized the West Center's amenities and close proximity to Campus Walk, which also has a pool and exercise equipment.
"It's nothing extravagant. We realize there's a multimillion-dollar facility right across the street that most of our residents have access to," Smith said. "The fitness center won't be a large part of the project but it will add some cardio."
The outdoor amenity space will be open from "dawn to dusk" and will be closed in the evenings.
"Because of safety reasons, we don't want the pool open past sundown," Smith said. "But they will have access to the recreation center 24/7."
Campus Walk is also offering its lowest rent rates in the last 18 months for the next semester and next academic year. These rates will end on Nov. 15, where the rates will increase.
"Students can take advantage of that and have access to the new amenities next year if they pre-lease now," Smith said.
The rates are increasing for 2-bedroom apartments for the added outdoor amenities in January. The rates for 4-bedroom units will not be altered.
"It's a high demand and we have a limited number of 2-bedroom units," she said.
Short-term leases will also be offered for the first time next year.
"We had a lot of students in the past that needed a five-month lease because they are graduating in december, or a 10-month lease because they couldn't stay over the summer. We have not offered that in the past.   This is so that we are meeting everyone's needs," Smith said.
Students do not have to pay when they lease an apartment. They also accept financial aid for covering rent. Roommate matching services are offered through Campus Walk as well.
"There is an online platform we use called Compatibility. Students go on and take a small 10 to 15-minute assessment that asks about your study habits, your hobbies and what not," Smith said.
The program uses an algorithm that suggests roommates based on a five-star rating. Students can then message their prospective roommates to see if they are compatible. This will be the third year Campus Walk used Compatibility.
"It seems to work really well. We don't choose. We give students the opportunity to choose their roommates and talk with them prior to matching. Reach out to them, message them, meet them. Figure out if you're compatible with them before you make the decision and let us know who you want to live with," Smith said.
Walk2Campus is a privately-owned company in the student housing business since 2004. They are present in eight different markets along the east coast.
If students are interested in pre-leasing for next semester, or need more information, they can contact them via email at rockhill@walk2campus.com, phone (803-554-8801), or visit their website walk2campus.com.
Junior mass communication major Christine Shannon said that she is excited about the new amenities coming to Campus Walk.
"I think it's a good idea for them to add an outdoor space that's enjoyable and convenient for residents to hang out by the pool and work out in the fitness room.
However, she said that she is concerned about the increased prices on the the two-bedroom apartments.
"I'm kinda torn on that. Given that I am a resident of a 4-bedroom apartment, I'm glad that our rent will not increase; however I am also concerned that since it is only on the 2-bedroom apartments, and their prices are already high," Shannon said. "It may make more residents consider moving out or switching to a 4-bedroom and also may make possible future residents hesitant to live here."