The Winthrop University Spirit Squad was faced with criticism yesterday after posting an Instagram photoset of the squad's Halloween costumes. The photos included two team members dressed as Native Americans.  
The screenshot of the photo has since been removed from this post.
The photo was posted at some point on Oct. 31, but the first negative comment on the post was put up around 8:00 a.m. Nov. 1.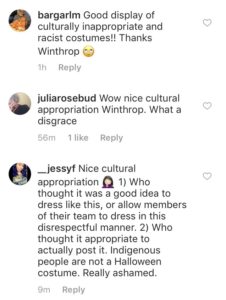 The discourse went to Facebook as well. The photo was shared by many and Gabriel Paxton, a Winthrop Alumnus, posted about his discontent with the photo.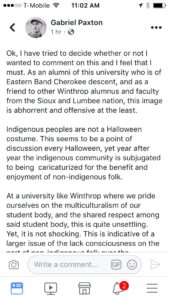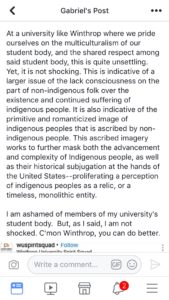 Parker Quinlan, a graduate student in the Masters of Liberal Arts program with a concentration in political and civic engagement explains why he feels that this photo was an issue.
"Using an individual's identity, in part or in whole, to create a costume, or to create a situation in which you can briefly resemble that person is troubling to many people. Using a person's identity as a costume means you don't have to accept any of the liability and malcontent that comes with it," Quinlan said.
Winthrop is not the only school that had students dress in a costume deemed offensive by many this Halloween. At College of Charleston, there was a student who dressed as Freddie Gray, an African American man murdered by the police.
Quinlan said he feels situations like these should not be swiped aside, and that the Spirit Squad should apologize.
"The students responsible need to apologize, and so does the entire spirit squad. Also learn from the experience. You came to be educated at this university and while some lessons are uncomfortable and very public, they should take time and reflect on what's happened.
The Instagram photo has since been taken down and the Spirit Squad has not made any public statement about it.
The Winthrop Spirit Squad has not responded to a request to comment.