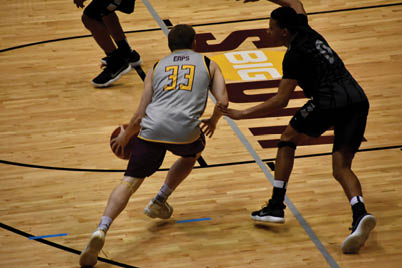 Former men's basketball manager honored with walk-on spot on men's basketball team
Matthew Erps, a senior exercise science major from Spartanburg, South Carolina, was promoted from a Winthrop men's basketball team manager to a full-time player for his final year at Winthrop.
Prior to Winthrop, Erps attended and played basketball at Spartanburg High School for his junior and senior years as a point guard. "I've played basketball since I was six years old and the gym has always been a safe haven for me," Erps said.  "Just being able to play the game of basketball again is something special."
The interview process to become a manager is "relatively simple," said Erps. After Winthrop basketball posted about the opening on Facebook, he talked with the managers and they allowed him to attend some workouts, where they saw how eager Erps was to become a manager and be around the game of basketball. His responsibilities included: the team's laundry, staying after games to rebound for players, getting pre-game and post-game meals for players and coaches, breaking down film, setting up practice and guarding ball screens.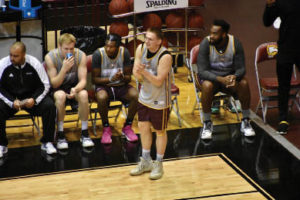 "Coach Kelsey was gracious enough to allow me to hop into some drills from time to time. I think just after a couple of weeks my freshman year, I started to realize that I could play with the guys on the court," Erps said. "I knew I was far from the best player, but I knew how bad I wanted to be a part of the team and how much work I was willing to put in to get there. The coaches would just continue to put me in drills and allow me to play with the team, which was something that I tried to take advantage of."
Erps said that being a team manager and player are both tough jobs, and they each include a lot of time and effort.  "I have so much respect for managers because I was a manager for three years," Erps said. "They are really important for our team because they do so much stuff that goes on behind the scenes that people don't recognize or sometimes appreciate."
"We really miss his work ethic and accountability. He would always communicate what he is doing and what he needs help on, and really exemplified a true leader. He would always be the first one in the gym helping the players out with rebounding or doing whatever the coaches needed him to do because he was such a reliable presence," senior Winthrop basketball manager Nick Dillener said. "I am so happy that he was offered a spot on the team and was able to make that transition. It was always his dream to play Division I basketball. I honestly have never seen anyone in the gym as much as that kid to work on achieving that dream."
Erps said his respect for student athletes has grown because he has experienced how physically demanding and exhausting it can be. From having to go to practice and lift while still going to classes, it can be tough to adjust to such a demanding schedule. "But it is worth every bit of it in my eyes," said Erps.
"Erps is one of the most passionate and determined guys I have ever met. You always want to match his energy and love for the game. He is a perfect fit for the scout team. We love having him in uniform out there with us," senior Winthrop basketball player Mitch Hill said.
Erps said the chance to play basketball again for his senior year makes him even more thankful for the opportunity by the coaching staff.
"The reaction and the amount of support that I have received from walking on has been unbelievable. God has truly blessed me with a great family who supports me and encourages me daily," Erps said. "There were times where I just wanted to quit, but close friends just kept pushing me and giving me the encouragement when I needed it, which helped me achieve this goal."
The Eagle's first game of the season will be at home on Nov. 10 at 7 p.m. versus Southern Illinois.