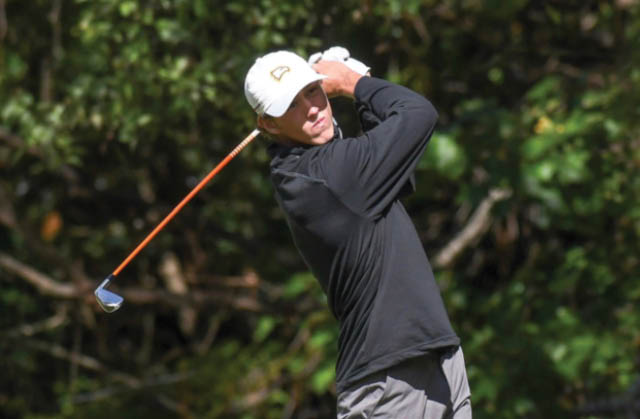 Mills discusses strengths and weaknesses, plans after graduation
Sawyer Mills is a Winthrop Men's golfer from Powdersville, South Carolina. Sawyer is a junior Business Management major and has been playing golf since he was 10 years old.  Mills attended Wren High School where he continued to develop his golf skills before coming to Winthrop.
So far this fall season Mills has had a slow start but it optimistic about the rest of the school year. When asked about the season, Mills said "both personally and the team have had a slow start. However, we are a young team full of potential so I have faith that we can finish out the year well." Mills' two biggest strengths in golf are his drive and his putter.
This past weekend, the golf team competed in the East Bay Deli Classic at Kiawah at the Turtle Point Golf Course. Mills shot 73, 1-over par, and shot a 34 on the back nine, with birdies on 17 and 18. Mills was tied for 3rd after the first round. He was only one of five players in the field that made an eagle. Mills also recorded the most birdies of the day with four in his first round. Winthrop was tied for 8th after the first round of play.
Sawyer draws a lot of his support from his family. He said that they are his biggest supporters and also where he draws his inspiration from. "They have always been there for me to help me pursue my aspirations," said Mills. Mills' brother, Parker Mills, also played golf at Winthrop and graduated last May.
After graduation Sawyer hopes to continue golf professionally as long as he can and then begin working for his father's business. Golf isn't the only thing that Sawyer enjoys. His favorite movie is Hot Rod, and he loves any and all breakfast foods.