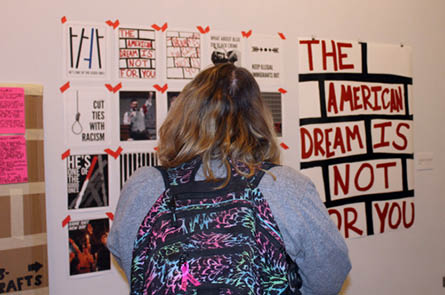 Design students display provocative poster designs in new gallery show
Political discourse is inescapable in the modern era. From the 24 hour news cycle to coworkers rants on Facebook, it seems that politics are at the forefront of many Americans' minds.
The junior graphic designers in the concept design class proclaimed their political opinions through the medium of poster design. The students were challenged to design a poster that stimulates emotion and provokes dialogue to raise awareness for critical and global socio-political issues.
The gallery, located on the first floor of McLaurin, showcases the final posters and the process work- from rough concepts to sketches- that the designers went through before finalizing their message.
The meaning of the posters were left up to the students, meaning that they could champion any political or social cause that they felt is important. The topics ranged from feminism to immigration to the influence of social media.
The class is intended to teach students alternative approaches to solving design problems through further application of visual communication design principles. Projects encourage conceptual investigation and creative approaches to communication design problems.
Professor Jesse Weser intended the political cause project to teach students about what a concept is in relation to design.
"I felt it was important to do this project because I was trying to think of ways to make the juniors understand what a concept is. They have largely taken fundamentals classes and the concept and message are emphasized less because of the focus on craft," Weser said.
She continued, "I wanted to make them think of their role as a designer in a more global sense. I wanted them to realize there is more to design than editorial layouts, they can take a stand."
Weser pointed out graphic designers rarely have gallery exhibitions, partially due to the contextual nature of the work.
"When I originally proposed the show I was going to collect work from across the Visual Communications program to showcase and explain what we do. However, while speaking to the gallery coordinator she proposed that we find a way to present design outside of its normal context. I tried to treat this as a laboratory rather than an exhibition; the design process is an experiment and I hope that this gallery can help explain the process and what we do as designers," Weser said.
Kaitlyn Blackman, a junior graphic designer, said she was nervous for her first gallery show.
"The final set-up was very stressful, the stakes felt higher knowing my work would, in part, represent the department. It is a little weird to see our work in a context that is different than normal, galleries are usually reserved for fine arts students. Even though it is intimidating to walk by and see people looking at my work that way, I feel a sense of pride seeing my work printed huge with my name on a little plaque on the wall next to it," Blackman said.
Jordan Farrell, another design student featured in the showcase said he initially felt uncomfortable picking a political topic.
"I didn't want to pick something so politically charged just because I don't feel comfortable with that, it just isn't me," said Farrell.
Farrell eventually settled on climate change as her poster topic.
"Global warming is important to me because people are denying that it is happening. Climate change is real and it is drastically affecting our planet, which is why it makes me angry when people like Trump bring more doubt to a very real issue," she said.
On being featured in her first gallery show, Farrell echoed a sentiment said to be shared by many of the design juniors.
"It is crazy to think that there is something that I created displayed that everyone can walk by and see. Designers don't really get exhibitions and it is special that our class was chosen. Even after all the work and the stress, I think it turned out well and I hope that people stop and think and maybe even change their perspective," said Farrell.
The design concepts gallery reception is Thursday, November 2nd from 5:00 p.m. to 6:30 p.m. and the posters will be up until November 6th.