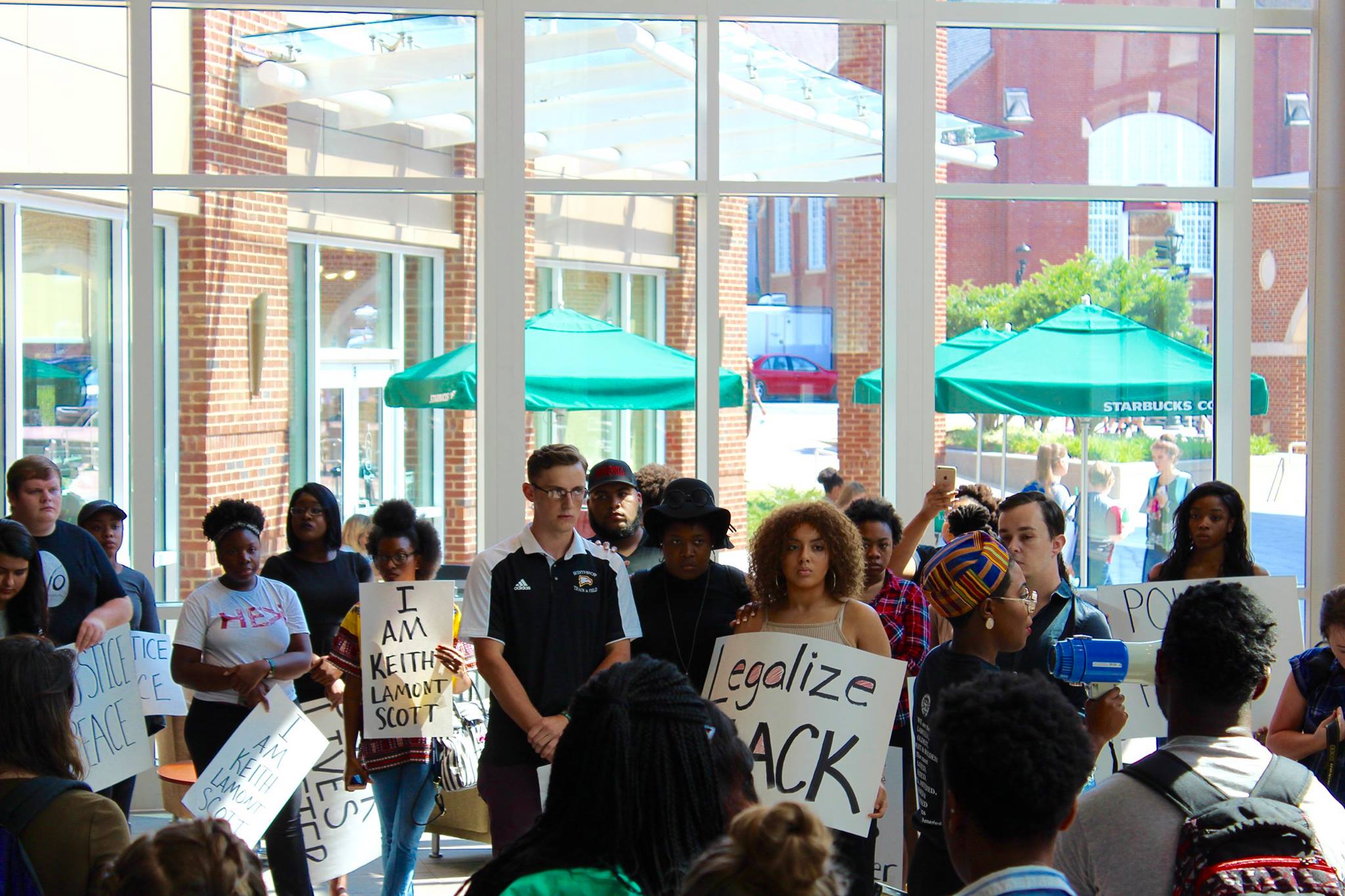 When it comes to police brutality, the statistics are sobering.
Seven hundred and eighty two people have been fatally shot by police in 2017, according to the Washington Post. Black people are three times more likely to be killed by police than white people, according to Mapping Police Violence. Additionally, more unarmed African Americans are fatally shot — 30 percent of black victims were unarmed compared to 21 percent of white victims.
How Winthrop students are affected
Anthony Mims, a senior at Winthrop and National Panhellenic Council president had an altercation with law enforcement where he experienced excessive force.
"My first time being pulled over was two years ago on Highway 26 in Charleston. An officer got behind me but did not flash lights or sirens until I passed the semi-truck blocking the lane I was attempting to merge into. I tried to pull off on the exit because it was 5:00, raining and I didn't feel safe. The second I parked the car, several more cars pulled up and officers came out with guns drawn," Mims said.
Unaware of what he had done wrong, Mims said the officers began to yell commands at him and then they proceeded to strip-search him and placed in the back of their vehicle while they spoke to his friend who had been in the car with him.
"They have her in cuffs and talk for an hour before coming to the car and telling me what I was even pulled over for. They said I was pushing 100 mph even though we were in traffic. They searched the car so well that they even picked apart my sandwich," Mims said.
Adolphus Belk, Ph.D., a Winthrop political science professor who specializes in race and ethnic politics, said some Winthrop students are affected by these instances in other ways.
"I think about Keith Lamont Scott," Belk said. "I had a student in this department who was his niece."
Keith Lamont Scott was a black man killed in Charlotte by police and, according to the Charlotte Observer, the officer was acquitted.
Police brutality can even affect those who aren't directly in contact with an officer.
"It's also possible to suffer emotional trauma from being bombarded by all of these cases. The community is the victim. Because of this sense of linked fate, this connection that people of color — that African Americans — have to other African Americans, they feel, 'it didn't have to be me, for it to be me,'" Belk said.
What Winthrop is doing about it
Winthrop has had a host of events that deal with the issue of community policing and relations from multiple perspectives.
In the fall of 2016, Winthrop students organized a "die-in" at the DiGiorgio Student Center where they laid on the ground for seven minutes and 15 seconds to represent the 715 people that had, at that point in the year, been killed by law enforcement officers.
In the fall of 2017, the Winthrop College Republicans held a police rally where the president of the organization, Sydney Hankinson, said the purpose was to show law enforcement some appreciation.
"We feel that law enforcement is kind of underappreciated right now," Hankinson said. "There are always going to be a few bad apples in the batch, but in general, none of us believe that police are bad or out to hurt people. In general, they are willing to give their lives to keep people safe and they deserve appreciation for that."
Winthrop also organized an event called "Palmetto Focus: Policing and Race". A panel featuring Belk; Bakari Sellers, an attorney and media analyst for CNN; and Jackie Swindler, the director of the South Carolina Criminal Justice Academy. They discussed the issue of excessive police force and possible solutions for it.
Nolan Worthy, a sophomore computer science major, said the event assured him everyone can work together to come closer to a solution.
"People from South Carolina have the ability to improve police-community relations in the state and across the country. The panelists each spoke about the actions they were taking to do so and encouraged the students in attendance to take actions to do the same," Worthy said.
There will be another panel on police relations in February as a part of Winthrop's Leadership and Social Change series.
Winthrop University Police Department on Police Brutality
Winthrop's interim chief of police, Kenneth Scoggins, said he thinks that Winthrop Police has a great relationship with the Winthrop community.
"I have never seen a time when we have had a contentious relationship with anyone, and we will continue to do whatever we can to improve on an already good relationship," Scoggins said.
Scoggins said Winthrop police officers do three to four months of extra field training, in addition to the 12 weeks required by the South Carolina Police Academy training, to ensure that the officers are prepared for any situation. Diversity training is also emphasized.
"Taking into consideration that we are policing and providing services to such a diverse campus, it is really important to us that we have that diversity training. We typically have additional diversity training yearly," Scoggins said.
Belk has hosted a training session specifically for WUPD officers as part of their diversity training, in which he said it became apparent that communication is important.
"The problem is that members of the Winthrop community are not necessarily aware of what's involved in providing police services on this campus and how much work they do to promote public safety and solve crimes when they happen. So the police have to do a better job of communicating that information and then people have to do a better job of receiving and understanding it," Belk said.
Scoggins said he wants "students, faculty and staff to understand that Winthrop Police is here for everybody."
Can this issue be solved?
Some believe that police brutality doesn't exist. The Associated Press reports that 33 per cent of adults say police brutality is not an issue. Belk said this is a form of denial.
"For some people, it is a matter of dissonance; they do not want to accept something negative about an institution that they have been taught to respect," Belk said.
Hankinson said most officers are good and the divide on the issue is because of the media.
Hankinson said the case where Walter Scott was killed in North Charleston, South Carolina "was the case of just one individual just screwing up and getting punished for it."
"I think in general there might be some people who abuse their power but that is not why most people join law enforcement. I think a lot of the divide is media portrayal," Hankinson said.
Belk said Americans need to accept and address the problem in order to solve it.
"These things happen in this country and when these things happen, the people who end up laying in their own blood and dying tend to be people of color," Belk said. "We need better people going into law enforcement, we need better training for them to deal with all of these situations that they are going to be facing on the field then on top of all of those things, better relationships between law enforcement officials and members of the community."
Many would argue that this is an issue which can't be solved, but Belk said if that is true, it would be traumatic to society.
"If it couldn't be solved, then what we are really saying is that there is a certain level of death that are we willing to take. As a professor, if I make a mistake, I can submit a grade change form or review an essay — my mistakes don't get buried. My mistakes don't destroy communities and cause the loss of human lives," Belk said.
Scoggins said there is a lack of understanding that needs to be addressed.
"I think our biggest impediment to good continuing relations is a lack of understanding," Scoggins said. "I think that listening, learning about other people, other beliefs and other cultures is paramount to this topic. There is a lot of misunderstanding out there and I think the more that we try to learn and educate ourselves about those things, the better these issues become."