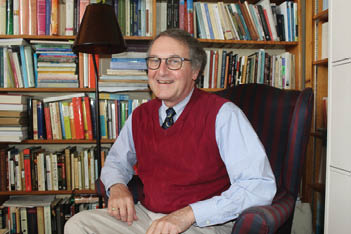 Winthrop student gains local work experience via Rock Hill economic initiative

The department of philosophy and religious studies completed a self-study and external review for improvement on the program. Department chair Peter Judge, who has a doctorate in religious studies, plans to take action in response to the assessment and recommendations.
Winthrop's Academic Affairs requires every academic department to undergo evaluation every five to seven years.
"We decided to do a self-study. We compared ourselves to other programs in the state, especially combined programs like ours," Judge said.
The process included surveying alumni and the campus community and looking at feedback about their reputation.
The next step was an external review team about the Winthrop's programs. The team included two reviewers; one is the department chair the philosophy department at Appalachian State University; the other was a philosopher and the vice-president for Academic Affairs at Savannah State University, a historically black institution.
The reviewers made some recommendations based on first impressions. Judge will receive the full report on Oct. 20.
"It's a process of looking at what we go, what we do well, what we can improve, things that we would like to do better, and putting into place something new," Judge said.
The reviewers recommended more promotion of community among students. There are only 22 majors in the department as of this semester, according to the Winthrop Facts and Information Page on undergraduate degree program enrollment.
"Our majors don't always know each other because almost every course we teach can be counted as general education," he said. "There are so many students who aren't major who are in our courses."
The reviewers also said that the department needs structural improvement. According to Judge, this means improving the current structure of the program.
"Do students really graduate with what we expect them to graduate with?" Judge said.
Judge wants to take advantage of the high African American student body at Winthrop. The representative from Appalachian State offered Judge a perspective about diversity within the department.
"There is a lot of white male faculty in our department," Judge said.
Judge is looking at more diversity in the student body and faculty. They are not actively hiring, but Judge said they will is pay attention at diversity in the future.
The department recently hired Arzu Uranli, an adjunct professor from Turkey who practices Islam. She teaches the Women and Gender in Islam course, a new course this semester.
More interactive or experiential learning, such as internships, were another recommendation.
"They would like to see more student involvement with experiences, whether it is in the classroom or promotion of student research," Judge said.
According the Judge, the department started those research opportunities for the first time this year.
"We have courses that allow students to do independent research and get credit for it," Judge said.
There are four courses that are zero credit hours, developing for the sake of the SOURCE conference in the spring. Credits are awarded based on the amount of work and time put into the research. The professor who works with the student also gets credit as well.
Judge decided to review the "traditional" curriculum. He plans on introducing more appealing courses focused on topics such as gender or ethical issues.
Judge is also considering programs that would help them focus more in terms of their major, such as a certificates and pre-seminary programs.
"Many of our students come to me, and are thinking about seminary programs regardless of their major. Judge said. I've had one psychology student come to me."
The overall goal for the department following the evaluation is the recruitment and retention of students.
"The State Commission of Higher Education wants to see departments produce more degrees, and that's a concern for us. We don't have a lot of majors," Judge said.
According to Judge, students do not come to Winthrop wanting to major in philosophy or religion. Almost their students switched to the philosophy and religious studies major in their sophomore or junior year.
"You can become a major in the first part of your junior year and finish on time," Judge said.
Some of the recommendations can be implemented sooner than others, such as promoting community via events. These events will encourage networking and communication among philosophy and religion majors and minors.
The reviewers also said there was no lounge or gathering area for students for studying or conversation.
"That's a logistical thing we can figure out pretty quickly," Judge said.
Anything changing the curriculum requires long range planning. Faculty diversity depends on retirement or outgoing faculty members.
"It also depends on getting the university to get a new faculty member for us," Judge said.
Junior religion major Teddi Lynette Thomas said that her experience within the department is "amazing."
"I feel like I'm not judged, and I'm accepted within the department," she said.
She said that the department's strengths lie in faculty support, support from fellow students, and the work load.
"You must put in work in order to succeed, but there are not a lot of philosophy courses offered," Thomas said.
Senior philosophy and religion major Morgan Welch also said she had a positive experience for the last three and a half years in the department.
"All of the professors are open minded and always willing to offer advice," Welch said. "The emphasis on diversity is apparent in the department and is very beneficial in understanding a variety of beliefs in regards to religious and philosophical thought.