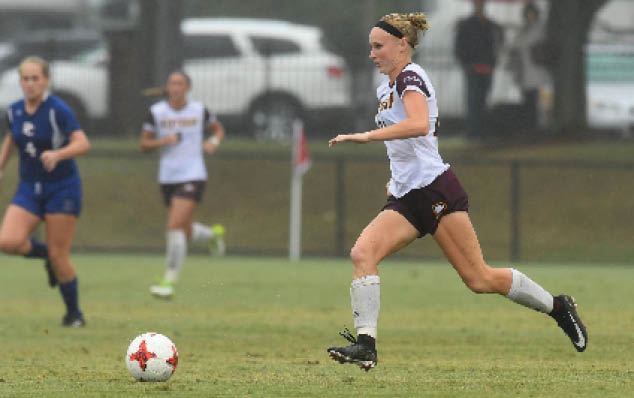 Sophomore Natalie Royaard helps Lady Eagles wrap up their season
Natalie Royaards is a sophomore athletic training major from Greenville, South Carolina and is a member of the women's soccer team. Royaards grew up playing soccer for CESA, a Greenville based club soccer team.
Her strength on the field is her undeniable speed.  If you have been to a women's match this season, it is hard not to notice her blistering pace.  Royaards said she wants to focus more on her first touch and her ability to control the ball with a defender on her back.  According to her teammates, Royaards is an extremely hard worker and her love of the game is evident in practice and on the pitch.
The Lady Eagles are wrapping up their season, and although they didn't have the season that they were hoping for, there is no doubt that it was better than seasons before.  Royaards helped the team this year with four goals, three of which came from a hat trick against UNC Asheville.  Despite the Eagles record, Royaards is still positive about the season, "The season has been full of hard work and determination. I think that we've all had a determined mentality and we've been playing for each other. Even though we've had some unlucky results, we haven't let down and we keep pushing hard!", Royaards said.
The player's favorite part about soccer is that it pushes her both mentally and physically.  She feels that she is able to accomplish feats through soccer that she didn't think were possible.
Royaards is not a stranger to injury, having had ACL surgery in the past and battling with a pulled hamstring this season, Royaards has had to overcome a lot.  This familiarity with injury has fueled her desire to help others heal through physical therapy.  Currently in her coursework, Natalie has done rotations with the Winthrop Cross Country team and is now working with athletes at Fort Mill High School.  These opportunities are allowing her to experience first-hand different types of injuries and how best to treat them. Royaards' dream job would be to own her own physical therapy business.
If you see Royaards on campus she is probably blasting Reggaeton music into her headphones and wearing minion somewhere on her person.  She loves any home cooked food and "The Titanic" is her favorite movie.  Be sure to support Royaards and the rest of the Eagles through the end of their season and into the spring.