This past week, Winthrop University hosted the 2017 United States Disc Golf Championship (USDGC). The sporting event took place on Winthrop's Golf Course, which is scattered from Winthrop Lake to the Coliseum, as well as around other sports fields.
The best 98 disc golfers from around the world competed at the event. Most were from the United States, while a few represented Finland, Switzerland, Canada, Sweden, Estonia, Germany, Denmark and Australia.
During the championship's final round on Saturday, Nate Sexton took the win over local talent and reigning World Champion Ricky Wysocki. He got an early lead, and although Wysocki fought hard, he was unable to close the gap in points.
Wysocki is from Fort Mill, South Carolina, and in an interview with USDGC, he said, "I feel like I'm in my comfort zone when I'm at the course and at home."
According to USDGC, Wysocki has been returning home every two weeks before the event to practice since he began competing in 2012. This tactic has proven its success as last year he was also in a winning position before the final round was canceled due to Hurricane Matthew.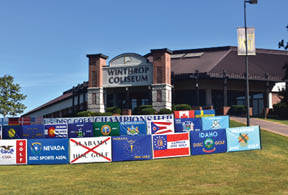 This year, he won the Disc Golf World Tour (DGWT) title for the second year in a row; this trophy is awarded to the disc golfer with the most points. Wysocki was actually tied in points with Paul McBeth, but because he had the most DGWT event wins, he took the trophy home.
The tournament also had a collegiate event called the Dean's Cup, where Winthrop competed against Wisconsin-Platteville, Ferris State University, and Arkansas State University.
Winthrop took third place, with Ferris State coming in first; Ferris State has won the national championships the past three years.
"Having the honor to compete at the United States Championships meant the world," said Winthrop disc golfer Mark Ewell. "It showed us that as a team we can hang with the best teams in the nation."
Winthrop's team was made up of the top four disc golfers from the club program. These players included club president Derek Faile, vice president Mark Ewell, Tyler Wozniak and Esteban De La Cruz.
"To have Winthrop host an event with the best players in the world competing in it was a huge honor", Faile said.
They all agreed that their team goals include climbing the disc golf ranks and being recognized as one of the top programs in the country.