Creative writing professor Dustin M. Hoffman will become the new Director of Graduate Studies in the English department, replacing Josephine Koster's.
Tell us a little about yourself.
I'm originally from a small town in Michigan and this would be my fourth year at Winthrop. I worked construction from the age of 15 though my undergraduate degree which inspired my theme of working class characters in my writing. I wanted to place an emphasis on the language of work and working-class voices that are underrepresented in literature. My first book came out in 2016 and I just hit my 56th story publication in magazines.
How did you decide that you wanted to pursue creative writing as a career?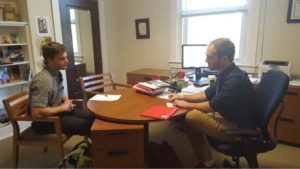 My first major was in audio productions. I was a punk rocker and the dream was to run a recording studio. One of my teachers said, "If you really want to succeed in this world, you should be working in the docks at some studio." So, I said, "This isn't what I should be studying." I was always resisting English. I was good at it in high school. I read every Hemingway novel while I was an usher at a movie theater. Eventually, I started an English major. One of my advisors suggested that I try creative writing. I took a class in it and I was hooked. One of my teachers was Adam Schuitema and he's a fantastic writer. His third book just came out and we're still very good friends. And I just had a string of fantastic mentors from there.
What made you decide to come to Winthrop after you finished your degrees?
I was applying to a bunch of jobs, but Winthrop was the one I was really crossing my fingers for. I liked the place and the size of the university I was lucky enough to get a campus interview and I loved it. I had another job offer that I had to turn down before I knew if I had this job in the bag which was terrible. The other place would have been a great place to work, but I was betting on Winthrop. I loved the faculty, the students, and the environment. I'm interested in work and working-class population, so the population was important. The other school that I was turning down a job offer from was a lot of privileged, wealthy kids and I was less interested in serving it than what the Winthrop population is. The students that I could help mattered to me a great deal.
What are some of your favorite classes to teach here and why?
The fiction writing class is, of course, the nearest and dearest to my heart. I have taught the creative nonfiction class and I kind of miss it already. It was a lot of memoir writing and personal essay writing. But the fiction writing workshops, because that's the art I'm most comfortable with. They're not necessarily easy to teach, but they come naturally for me. I just love to help a student find their voice and find their spirit.
So, there's a novel you've been working on for the past four years, can you tell us more about it?
Right now, it's called No City, Michigan. It's set in my hometown of Alma, Michigan and it happens over three days. Since I'm a short story writer, I like the idea of tight timelines. It's a love triangle between three teenagers, two boys and one gal. But the gal isn't the object of affection, it's one of the guys. So it deals with struggling with sexuality in a small midwestern town where there's not much opportunity to be expressive and there's a lot of discrimination. There's also a lot of violence and guns, because it's a hunting town, and a lot of drugs.
There was a first chapter from one of your books that got leaked called "In This Room, I Make Red", is that from this book?
Yes. Witness Magazine was kind enough to publish that chapter by itself. The book roves between the point of view of the three characters.
Do you ever find it difficult to put yourself in the mindset of the characters?
There's some primary experience long ago, but I do a lot of research also. There's some LSD involved in the novel, which was fun research to do. I was going into drug use message boards that were really detailed and specific and I was calling up cops on the phone to find out about specific cases. I'm drawn towards plot points where characters are making mistakes. That's good for fiction, not people who are doing everything right, so drugs are good for that.
Do you have any kind of publishing timeline for your book?
I'm sending it out to agents right now rather than sending it to publishers directly. That process involves a lot of rejection and time versus just publishing on Amazon which is something I don't believe in. If you publish on Amazon, nobody does any work for you. All your publicity, advertising, and distribution is up to you. But two other chapters got picked up the other weekend, so there will be two more chapters coming out in magazines. So, there will be more chapters leaked before the books come out.