Junior Chelsea Dantonio hopes to continue strong season after leading in the Starmount Fall Classic season opener
Chelsea Dantonio is a junior on the women's golf team. Dantonio is a healthcare administration major from Buffalo, New York. She started playing golf at a very young age when her father would take her to the driving range. It wasn't until a few years later that they began playing holes together. Dantonio's biggest inspiration is her dad. She said that her biggest supporters on and off the course are her friends and family.
So far this season the Lady Eagles are "off to one of our best starts placing fifth and third in the two tournaments played so far," according to Dantonio. They finished fifth at East Carolina, and Dantonio believes that that tournament was one of their best by far. Individually, Dantonio's is playing the best that she has in her entire college career up and has had her lowest scoring average out of all of her seasons. Dantonio's strength comes from her ability to stay patient and positive when she is on the course. She said she recognized that in golf, the game could change at any moment and she must "always remain patient until the last putt drops".
Aside from golfing, Dantonio is an avid shopper and could spend hours at the mall. Her dream would to be an LPGA professional. Justin Bieber is her celebrity crush, "The Choice" is her favorite movie and she loves chicken parmesan.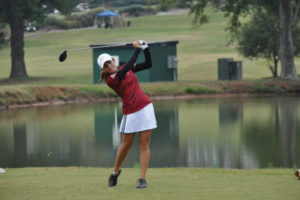 Dantonio and Winthrop women's golf traveled to Greensboro, North Carolina for its  Sarmount Fall Classic on Oct. 2 and 3. Winthrop shot its best score of the tournament in the final round to place third, finishing behind Campbell University and Marshall University; the team maintained their position the entire event finishing third in each round. This is the Lady Eagles' second top-five finish of the fall season so far. Dantonio finished fourth overall after a team low of 71 for the first round and at the end of the 54 hole event ended with +1 on Par 3 scoring, +5 on the Par 4s and -3 on Par 5s. Dantonio and her teammate, Julie Reinertsen, led the Eagles in total birdies for the event with nine, and Dantonio had the team high in pars with 34 total. Dantonio was also the top Winthrop player on Par 3 and Par 4s. For their next tournament, the Winthrop women's golf team will travel to Hayesville, North Carolina to face off in the Bill Berg Invitational hosted by Western Carolina Oct. 16-17.
Come out to support Chelsea and the rest of the Winthrop women's golf team at their next home tournament, the Winthrop Intercollegiate Tournatment, Oct. 20-22.