Sandra Stroman, Winthrop University's newest Board of Trustees member, was elected this year to serve a six-year term, replacing Sue Smith-Rex, a Winthrop emerita professor of education.
Stroman retired from the Chester County Board of School Trustees and said that she believes she has a unique perspective from her 25 years of experience of teaching special education and social studies.
One of her main goals, Stroman said, is "to help Winthrop continue to graduate greater numbers of highly qualified teachers."
As a retired public school teacher and a Winthrop alumna, Stroman said she is invested in the school's education program and wishes to help attract more top students so that Winthrop may produce greater numbers of qualified and passionate teachers.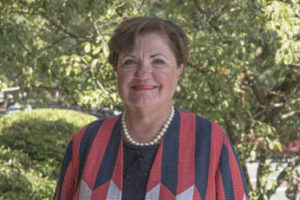 Stroman was a former chairwoman of the Chester County Republican Party and traveled as a state delegate to the 2016 Republican National Convention in Cleveland, Ohio. She holds a communications bachelor's degree and a special education master's degree, both from Winthrop.
According to the Winthrop Board of Trustees website, the Board has general supervision over and is vested with the conduct of the university. There are 15 members who comprise the board, including the governor of South Carolina and the state superintendent of education. The other 13 members are elected by joint ballot of the state Senate and House of Representatives, appointed by the governor, or elected by the alumni association.
Stroman said she believes she can greatly improve Winthrop not only within its teaching program but also in her own interactions with the students and faculty of the university as well as the campus itself.
"Much has changed since I graduated; it is much improved," Stroman said. "There is still some work to do, however, which I think may help our recruitment."
Stroman said she loves Winthrop's beautiful campus and hopes to improve areas such as the residence halls and living spaces on campus as well as Byrnes Auditorium.
She is most excited about being more involved with the members of the student body and faculty of Winthrop, especially getting engaged with school spirit during basketball season and other athletic departments.
In her spare time, Stroman enjoys painting Christmas ornaments and singing in her church choir. She enjoys interior design and is in the middle of renovating her own kitchen. Stroman's family includes her three children and four grandchildren as well as her daughter-in-law and son-in-law.
Her husband, Jim Stroman, is a Winthrop Class of 1981 alumnus as well as a member of the South Carolina Department of Education's State School Board. He is a retired colonel in the South Carolina National Guard and served in the first Gulf War.
Overall, Stroman hopes to leave a positive impact on the Winthrop community through her experience in the school system and with Winthrop itself.