by Alexis Oliver (Staff Writer)
Winthrop hosted a forum for the candidates of the upcoming mayoral election
After almost three decades of service, Mayor Doug Echols has decided to not run for reelection, leaving the mayoral position and three council seats open.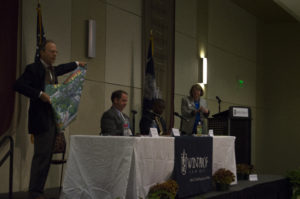 Winthrop held a Candidate Forum for those running for Rock Hill mayor and the Rock Hill City Council on Oct. 3, hosted by the Alpha Phi Alpha Fraternity and the John C. West Forum on Politics and Policy.
The event started with a word from the candidates vying for the three open council seats. Incumbent John Black is the only candidate for Ward 4. Three different candidates have registered for the Ward 5 seat: incumbent Ann Williamson, Nikita Jackson and Brandon Smith. Incumbent Jim Reno and Barrett Maners are running for the seat in Ward 6.
Incumbent Black for Ward 4 is a Winthrop graduate. Black said that before voting upon the public transit system issue, he wished to review the numbers to make sure that it is a financially viable investment but feels that it is an issue worth looking at.
As for Ward 5, Williamson said she believes her years of wisdom, experience and activity in voter participation are some of the things that make her the best candidate. She said one of the biggest problems is the lack of affordable housing, and her work on a coalition for the homeless has her ready to deal with this issue.
"You don't have to get ready if you stay ready," Jackson said. She feels like some of the most pressing issues include the quality of life for Rock Hill residents. Jackson said the main problem is the utility bill prices that people cannot afford. She believes that this can be fixed by increasing income, creating jobs and fostering economic development. She is also in favor of the bus transit system but has some concerns with the routes that are currently in the plan. Her apprehension stems from the lack of routes going through the neighborhoods that the bus system was designed to target.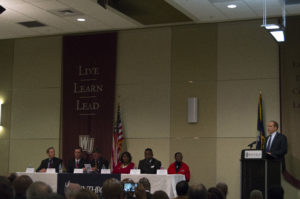 Smith said his connection with youth in the community and his leadership experience in starting his own construction business are some of his biggest selling points. He said that one of the biggest problems in the community is the lack of unity.
"If we come together as a city and a county, our issue will get solved," Smith said. He said the bus transit system will help the residents of Rock Hill get around to their essential activities, such as doctor's visits.
For Ward 6, Maners feels that his youth will bring in a new generation of people into the political field in Rock Hill.
Maners said his plans would affect Winthrop and how Winthrop plays a part in the community.  
"What's good for Winthrop is good for Rock Hill," Maners said.
While Maners supports the bus system, Reno has some reservations. Reno voted for it initially, but has voted against the system recently in order to take more time to consider the plan and try to reduce its expenses.
Three candidates have registered to run for the mayoral position: local landscape artist Duane Christopher, Rock Hill Sports Commission chair John Gettys and York County Councilman William "Bump" Roddey. Though they share views on some central points, such as bringing more jobs and building infrastructure, they vary on their ideas on how to accomplish these goals.
"I think downtown is very key. Rather than spread our tentacles farther and farther out, we can develop things closer to downtown and build on that," Christopher said.
Christopher has a plan for developing downtown Rock Hill in order to continue the city to grow and make it a bigger tourism hub.
Gettys is more concerned with using the space that is already available in Rock Hill to bolster tourism. Gettys spoke of the BMX World Championships that were recently held in Rock Hill and felt that the city needed to participate in more large-scale projects in the future, such as robotics competitions and a Performing Arts center.
Roddey made his focus the financial responsibility of Rock Hill and implementing plans that would help the most for the people already in Rock Hill. He believes that more high-paying jobs and affordable housing options are the best ways to help the people of Rock Hill offset the current cost of living.
When asked about the greatest strengths of Rock Hill,  Christopher spoke about how its citizens are the best thing about the city, while Gettys focused on its rich history. Roddey spoke of the organizational support system that is in place and how residents utilize the community to help one another.
When questioned about the most pressing challenge, Gettys brought up an issue that had been, up to that point, unmentioned. He spoke of the number of children in poverty and the number of illiterate children in schools. He spoke of the lack of literacy being an active deterrent to maintaining  jobs. He feels that the ability to prosper is based on schools through bringing the community together to combat these issues.
When asked about minority and women-owned businesses, Roddey spoke of missed opportunities within Knowledge Park. He feels that there is no room for diversity in the area because minority and women-owned businesses were not considered when designing the area. He also voted against the bus transit system due to the lack of change that he thought it would bring. He said he voted against it because it doesn't do enough and doesn't target the necessary neighborhoods.
When asked about his relationship with Winthrop University, Roddey spoke of Winthrop's support of the city in building Knowledge Park and the bus transit system. However, he also believes that the city cannot be solely dependent on its partnerships, such as the one with Winthrop. Gettys spoke of a new Miracle Park opening as a sports complex for children with special needs that has been in the works for some time. The facility is intended to be used by children without special needs as well. Though this project is still currently in the fundraising stage, he said this will be  a new way for the community to grow together.