by Zuri Anderson
Second university address by President Mahony highlights diversity milestones, incoming academic programs, and local initiatives in the Rock Hill community
President Dan Mahony delivered a 30-minute speech and presentation focused on Winthrop's key successes and challenges of the 2016-2017 year.
He also spoke about Winthrop's progress toward the five initiatives and goals for 2025, called the Winthrop Plan, revealed at last year's State of the University Address.
"Winthrop will be the national model for providing a supportive, high-quality and affordable educational experience that has a positive impact on students in the community," Mahony said in the State of the University 2017 video.
Mahony highlighted student athlete success in both "competition and the classroom" before proceeding to Winthrop's met and unmet goals so far.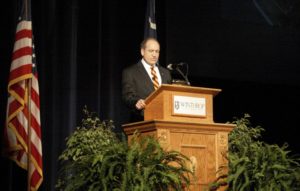 Women's tennis team captured its 19th Big South Championship. Student athletes achieved a record cumulative GPA of 3.2, 31 of them achieving a 4.0 GPA.
"Given that our targets are ambitious, we may not always reach them. I rather have us challenge ourselves than take the easy path," Mahony said.
Five goals are increasing enrollment, retention, student success, diversity and fundraising.
Student Enrollment and Retention
The diversity of this year's freshman class increased, having the highest GPA ever for Winthrop University. Mahony said the percentage will continue to rise.
"We plan to increase student diversity by reaching out to student populations that has not been well represented by Winthrop," Mahony said.
Mahony said that he was happy with the quality of the students, but revealed new information about student enrollment.
"Overall college enrollment is declining across the country. Talking with enrollment managers across the nation, this is part of a national trend."
Only 22 percent of public master's and bachelor's universities reach their enrollment target. Winthrop is part of the 78 percent that did not.
"While we might take some comfort that 78 percent of the same institutions are having similar issues, our focus is on becoming on part of the 22 percent," Mahony said.