World traveling professor comes to Winthrop 
New to the nest this week: Hye-Sung Kim, Ph.D is a new addition to Winthrop University's faculty and staff. Kim started this fall after applying last year and is a professor of political science. She moved here from Chicago in August but was born in South Korea.
"I had trouble a lot by being in different places, probably that have led to this career about studying different countries and comparing the cultures and political systems and economic developments and the factors of them," Kim said.
Kim explained one big difference between Chicago and Rock Hill was the lack of public transportation.
"I have been riding a bicycle every day and that's something that I learned about myself too. I actually do enjoy riding a bicycle. Every day we learn something new about ourselves and our preferences," she said.
Kim's main focus in the area of political science is centered around Africa.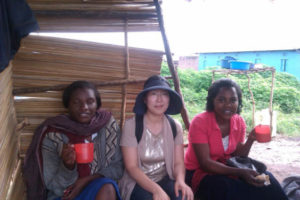 "So, I shouldn't say that I've really traveled to too many places, but my research now focuses heavily on African development, both political development and economic development, so I do a lot of fieldwork and field research. Mostly, I've done fieldwork in Eastern Africa, like in Uganda and Kenya, but that will expand," she said.
Beside traveling and researching different countries' governments and their economies, Kim also has a few hobbies that she enthuses when she has the time.
"I do love singing and I enjoy musicals and opera, so I actually joined the York County Choir.
"We practice every Thursday," Kim said. "I kept thinking, 'Eh, I'm busy,' but I also know I really do enjoy singing so maybe I should just audition. And the benefit of it was I do enjoy it so much. Another thing I like doing is watching Korean soap operas. So, that's kind of how I stay connected with where I come from."
Kim was not interested in political science until her later years of schooling, and she encourages students to try new things in order to find something that they may have never thought about pursuing before.
"I didn't choose political science for my undergrad or even my Masters' because I never knew about it. Sometimes you choose an option or make a choice based on what you know. Then you are basically limited to choosing something that you're aware of. The point I'm trying to make is that you will never know until you try so you may really enjoy learning more about different countries and different cultures especially when you're first starting. You can attend a lot of cultural events and talk to your professors. You may explore something that you never expected to explore," she said.
"Really reach out," Kim said. "If you think you're struggling for something, you can really reach out to your professors. The characteristics of the Winthrop faculty members that I've found is they are all really willing to help out all students and they really want to help students succeed. Sometimes the perception you have is not necessarily what the other person is thinking. Don't feel that you're not liked or that your professors are not going to help or that your professors are just ready to fail you, so don't make those assumptions… We often do reach out, but we do sometimes wait for the student to reach out. Whenever you need help, we are willing to help."