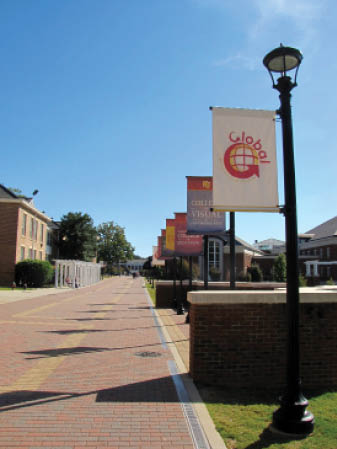 Students, faculty, staff and even Rock Hill citizens bring life to Winthrop's campus during the week. Common Time is the busiest part of the week. Students gather on Scholar's Walk to hang out with friends or stop by some tables. Maybe it's the vendor exposition or a student organization having a bake sale. Even some professors and staff members are out and about, whether it's their lunch break, a time to get out the office or to catch up with colleagues.
All this activity seems to evaporate by late Friday. The population looks like it is reduced to zero, and the only activity is the chirping birds and skittering squirrels. Why? Unfortunately, people consider Winthrop a suitcase school.
Colleges and universities deemed with this unofficial title mean that a vast portion of their students go home over the weekend or just leave campus in general. Now this is not a piece encouraging people to stay on campus and go to cultural events, find those secret parties or watch occasional movies in Dina's Place. It's ultimately up to the individual if they want to stay and leave.
It is just shocking how swarms of people disappear from campus come Friday afternoon. After more than two years of staying on campus over the weekends and holidays, it is no less surprising to me. Unless it's Homecoming or some kind of Winthrop promotion day like World Wide Winthrop Day, this is the usual Winthrop. Deserted, quiet and devoid of energy. People come, hang out, do work and leave if they can.
I cannot do that. I do not have a car, and I live two and a half hours away. The only opportunity I get to go home is during actual breaks: fall break, Thanksgiving, Christmas and spring break. And I know people in the same situation as me or those do not go home often because it is too far away and would be a waste of gas.
Sometimes, however, it's comforting. Walking down the empty Scholar's Walk, chilling on the swinging chairs or just laying on the hills of Campus Green is pretty relaxing. The absence of the hustle and bustle can help you concentrate while you do homework.
"I think it's refreshing," said junior Ashley Cooper. "There isn't a lot going on, but the campus is mostly empty, which is a nice break from the usually hectic crowds during the week."
So to all those people who spend the empty weekends here at Winthrop, make the best of it. Take advantage of the short Starbucks lines, the inherent quiet and the open spaces in the DiGiorgio Student Center or Thomson Cafe. If you like jogging or taking walks around campus, this is the perfect opportunity for you. Nobody will be back until Sunday afternoon, so enjoy it before the masses come back.