New assistant director for Greek life started first week, excited to expand on current Winthrop Greek life activities
After three years of service to Winthrop, Sarah Pankratz will be moving back to Ohio to be closer to family and friends and to challenge herself with new professional goals.
As the assistant director of Student Activities for Fraternity and Sorority Affairs, she passed the torch to Amber Polly, having helping Jolly with the transition the week of Sept. 18.
"I am not sure if I can put into words how much these last three years at Winthrop mean to me," Pankratz said. "I am proud and humbled to have had the privilege to serve as your advocate and advisor. I have enjoyed working here and you are all such a big part of why."
Pankratz said that she will be working in sales and training development at a financial services company. She will continue to support the fraternal movement through volunteering and facilitating programs.
Below is her interview about her time at Winthrop, a final goodbye and an introduction of the new assistant direcotr of Student Activities and Fraternity and Sorority Affairs, Amber Jolly.
What did you do as the assistant director of student activities for sorority and fraternity affairs?
I oversaw all aspects of Fraternity and Sorority Affairs: programming, assessment, membership recruitment/intake and education, the fraternal conduct board and assisted with departmental programs. I provided leadership, direction, advising, provided basic counseling and accountability, to the three governing councils — CPC, IFC, NPHC Councils, Order of Omega, Fraternal Conduct Board and the 19 national fraternities/sororities. I did all of this with the assistance of a graduate associate and student assistant, both of which have been amazing to have to help support our students.I developed programs and services to help build community among the fraternities and sororities as well as provide support for some of the large-scale programs our students put on such as the NPHC Homecoming Step Show, New Member Conference, Greek Weekend, and CPC Formal Recruitment.
What were the highlights of your time at Winthrop?

I have too many to name, but overall, I would say helping the community grow. In the last two years we have brought back three NPHC organizations, one IFC fraternity and brought our very first multicultural sorority to Winthrop's campus. Everything we do must be student-driven and this was definitely a collaborative effort with us, students, and the national organizations. Every Greek system is unique to its institution, and there are cases where the system does not align with the academic mission of an institution. I am proud that Winthrop does fraternity and sorority life right. I was proud to showcase all of the positive things are students in the fraternal community have done and continue to do for the Winthrop experience.
What will you miss most at Winthrop?
What I will miss most at Winthrop is the people. In the field of Student Affairs we talk about how you want to find an institution that is a good fit for you to work at much like how we tell our students to be sure to join an organization that is the best fit for you. I truly loved working at Winthrop and I do not think I'll ever find a better institutional fit than I did there. Everyone, faculty and staff truly care about helping our students. I got to work some amazing colleagues and had the most wonderful and supportive supervisor. The students have heard me say that I do not see myself working in Fraternity and Sorority Affairs anywhere else because I have been grateful to work with this amazing community. I always say we are a small but mighty community where many of groups have been recognized nationally for their hard work. I put a lot into this job and I am proud to see how far this fraternal community has come.
A welcome to Amber Jolly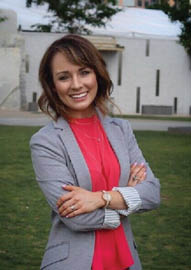 Amber Jolly is the new assistant director of Student Activities for Sorority and Fraternity Affairs.
Jolly started the week of Sept. 18 with Sarah Pankratz, the former assistant director, who helped Jolly transition into the position.
"I see a ton of potential in this community to grow and expand the great things they are already doing," Jolly said.
Jolly said that first-generation students hold a special place in her heart. As a first-generation student herself, she wants to mentor and guide those students through the rigor of college life.
"It's a little bit difficult when your mom and dad aren't able to help you process the steps for success in college," Jolly said. I'm willing to be that mentor for students."
One of Jolly's goals while at Winthrop is having more faculty and staff members involved in the sorority and fraternity communities.
"I think it is getting out, meeting those people and getting them more involved is important. If not involved, more aware," Jolly said.
Before coming to Winthrop, Jolly worked with the Greek community and first-generation students as a mentor at Johnson and Wales University in Charlotte.
She graduated from the University of North Carolina at Pembroke with her bachelor's degree in psychology. She also got her master's degree in higher education administration from Kent State University.
"Dr. Mahony was the dean of education when I was working towards my master's at Kent," Jolly said.
Jolly's most notable achievement is founding Pembroke's chapter of Kappa Delta Sorority Inc. She also got the opportunity to work in Memphis, Tennessee at the sorority's national headquarters before working at Johnson and Wales.
Outside of Winthrop, Jolly is involved with local and national organizations. She is on the National Leadership Team for Kappa Delta, training chapter and alumni advisers.
"I train them on how to work with students better, how to actually advise and not to tell students what to do. Basically helping them process these things in a more efficient way," Jolly said.
She is also on the Alumni Board of Directors for the Alumni Association at University of North Carolina at Pembroke.
"Giving back to my alma mater helped me fulfill my educational aspirations and get to that next level of being able to attend graduate school."
When she is not busy, Jolly enjoys spending time with Greer, her miniature schnauzer, and doing Cirque Du Soleil aerial silks.