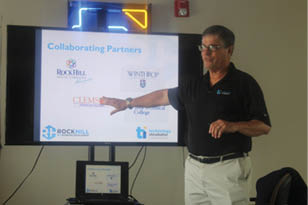 An inside look into technology focused student internships and opportunities 
15 years ago, notable features of Rock Hill's downtown, such as the lively pubs and verdant Fountain Park, were nonexistent. The city's textile-based economy struggled from the 2008 recession and outsourced of jobs at the turn of the century, creating a "dead and dying community," according to David Warner, the director of the Technology Incubator in Rock Hill.
Due to the launch of multiple, technology-based initiatives from the City of Rock Hill, the economy and downtown are in a mode of revitalization, with the Talent Pipeline being one of those initiatives.
The program started on a $250,000 grant from the South Carolina Department of Commerce in 2015. Old Town Economic Development Manager Frank Keel became the director of Talent Pipeline, in charge of its design and implementation.
Each year, the program supports 38 students for internships, which are managed through the companies. Students are paid at least $10 per hour, working 17 to 20 hours a week. "Bigger businesses have the potential to pay more than $10 per hour," Keel said.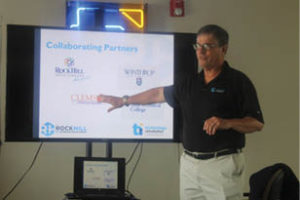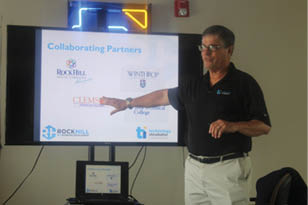 Keel built connections with Winthrop and York Tech's departments to recruit students for paid, technology-based internships by local businesses. He also works with Career and Civic Engagement at Winthrop, posting opportunities to EagleLink.
He recruits businesses into the Talent Pipeline, gets job openings and needs from them, and selects students from Winthrop or York Tech for the businesses.
"When, I know a certain position is sent to me, I know the exact professor or department head to go to," Keel said. Stephen Dannelly, Ph.D, who is the chair of the Computer Science Department, is one of those connections.
"Students can tell anyone that they are interested in finding an internship or part-time position. When there is an idea about the type of position, we send out emails through the listservs to specific majors interested," Dannelly said. Dannelly informs Keel about the pool of students who match specific positions.
"I send the students' resumes to the businesses, and it is up to them who they interview and hire," Keel said.
Almost all internships lead to offers of full-time positions, according to Dannelly. Even if students do not get offered that position, the experience makes their resumes more attractive.
The Talent Pipeline placed 72 interns since its start, three-fourths of those interns being Winthrop students. Students from every discipline at Winthrop, except from the College of Education, have been placed, according to Keel.
"We place emphasis on technology, but it is a broad umbrella,"Keel said. "That was one of the surprises when we started the program. We thought it would be strictly computer science, programming and web design. The first needs I got was for social media."
Social media is essential for branding and marketing for new businesses. Skills in high demand for local businesses also include marketing, graphic design, and web development. Business administration or computer science majors are encouraged to apply.
"It created a closer relationship between the city and Winthrop. We're using the program as a conduit to other companies, strengthening our relationship to other companies," Dannelly said.