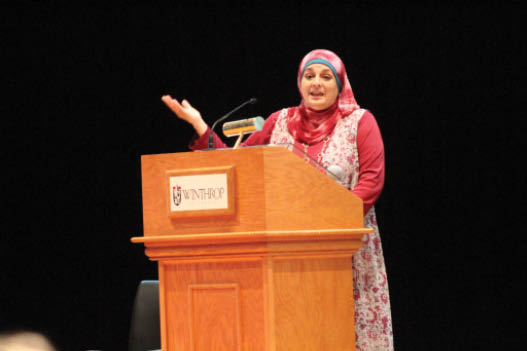 Winthrop hosts a two-part series of peace talks featuring acclaimed speakers
Winthrop University hosted two events on September 21 for the United Nation's International Peace Day.
The first featured a speaker from Washington D.C., Meg Olson, from the Network Lobby for Catholic Social Justice and Nuns on the Bus.  Olson discussed "structural racism," in which she said portrays society's structure, specifically homeownership built by the government that results in issues such as gentrification.
"I hope that for people who might not have known anything about what structural racism really means that this is at least a start… Marching the streets is so important but you can also be an advocate for justice and attempt to build a relationship with your member of Congress; that is also a good way to impact systems of change," said Olson.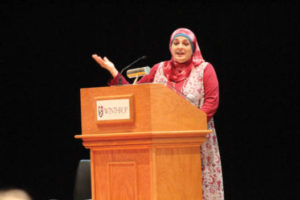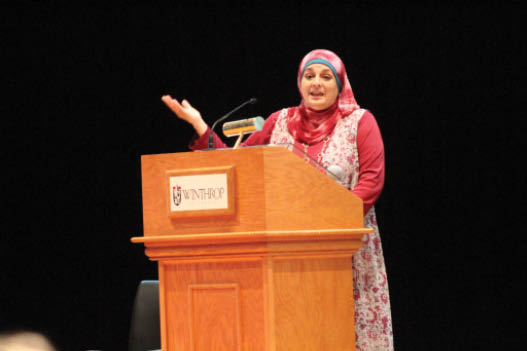 "I come from a family that is very Catholic and very dedicated to justice, I come from a history of labor union involvement so it was kind of just in my blood. My first job out of college was teaching at a high school on the southside of Chicago and I came from a suburb 20 miles away from where this was. Realizing that it wasn't just about education, that the issues of why students are experiencing trauma and not graduating from high school and violence, just everything has so much more to do with resources and community and how that whole neighborhood is structured or not structured. I couldn't quite put a finger on it but I knew that that 'easy, go to school—go to college—you'll be fine,' was not the reality that I was experiencing every day as a teacher. After 8 years, I left teaching and became a lobbyist for Catholic charities in St. Louis working on Medicaid expansion, immigration reform, on all sorts of different issues, laying the groundwork for that kid that walks through the door at school," Olson told the crowd.
The second event featured Rose Hamid and Reverend Dr. Sam McGregor Jr., who were advocates for moral leadership, as guest speakers who spoke about social injustice and non-violent engagement. There was also a musical guest, Billy Mulligan, who is an Irish folk musician and peace activist.
Jennifer Disney, the chair of the Political Science department which helped sponsor the series, said that she thought the event went well.
"We are glad we have established a campus-community partnership with organizations like Rock Hill for Peace and Carolinas Peace Resource Center to co-sponsor events to recognize and celebrate The International Day of Peace annually on September 21. In the morning, we heard Meg Olson from the Network Lobby for Catholic Social Justice speak on economic disparities between black wealth and white wealth, specifically on the long-term impact of race and housing discrimination, and help us think about the relationship between peace and justice. In the evening, we heard amazingly personal accounts from two local faith leaders, Rose Hamid and Rev. Dr. Sam McGregor, Jr., who spoke about times in their lives when they have felt the need to stand up or speak out for peace and justice issues. The inspiring music by Irish folk musician and peace activist Billy Mulligan was a beautiful way to end the day."