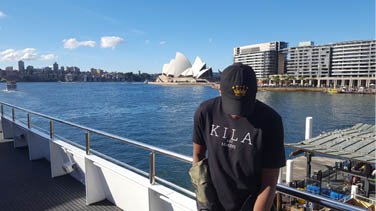 WU basketball player Kellen Blake speaks about clothing line that gives back to charity
At 6 foot 2, Kellen Blake can be spotted easily around Winthrop's campus. As a point guard for the men's basketball team, Blake is busy preparing for the Eagles' upcoming season which begins Nov. 10.
The athlete and marketing major is also busy running his clothing brand: Kila.
"Kila" is a Swahili word meaning "every". The brand's slogan is "where everyone is someone."
This premise is what the brand is built around.
"The whole basis behind [the brand] is that we're all kings and queens in our own light, we're all important at the end of the day. Self-love is something that we really promote," Blake says.
Blake launched the brand during the summer of 2016 with his friend Dewan Clay. They had originally established another brand earlier on, but decided to spend more time developing a label that could also give back.
"Learning new ways to reach out to people is really important to me," Blake said.
For every product sold, Kila gives three percent of profits to a charitable cause through the Kila Foundation. These causes can vary from disaster relief to scholarship funding.
The brand offers men's and women's Kila t-shirts, clothing and hats at relatively low prices: the range tends to be anywhere between $8-$20.
"I'm a college student, so I know the feeling of wanting to buy clothes, but not having the money, so making it affordable is a really big thing we focus on," Blake said.
According to Fit Small Business, a small business and entrepreneurial media outlet, 62 percent of U.S. billionaires are self-made, meaning they started their own business or brand to get where they are today. Additionally, small business failure rates have steadily declined 30 percent since 1977.
"If we can stay true to ourselves, keep prices low, stay with what we believe in, I think we'll go a long way," Blake said.
His advice for anyone wanting to launch their own brand is simple "Just believe in yourself. Every day is not foing to how you want it to, but that's part of the jouney," he says, "you have to plan accordingly, bust of all, just do it".
Visit www.kiladc.com to shop the Kila clothing line and discover more about the Kila Foundation. Follow Blake on Instagram
@kblake_12 and the brand @_kiladc for giveaways and updates about the clothing line.