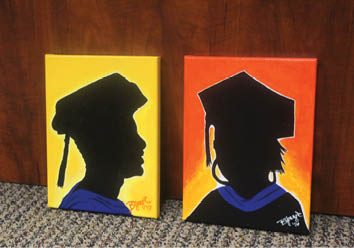 McNair Scholars Program receives almost $6,000 in extra funding for next five years
Winthrop's Ronald E. McNair Postbaccalaureate Achievement Program,gained a grant renewal of nearly $6,000, bringing its total award to $232,265 each year for five years.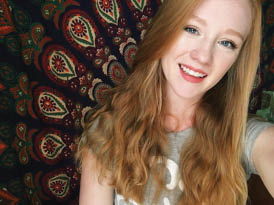 "The McNair program helps with the high-quality research experience as undergraduates that makes them more competitive for graduate school. When they get to graduate school, and they are much more likely to be successful," said Cheryl Fortner-Wood, Ph.D., the director of Winthrop's McNair Scholars Program and a professor in the psychology department.
Winthrop's McNair Program received the funding boost for meeting their objectives and achieving near-perfect scores. Congress voted on a funding increase for TRiO programs and an increase on the number of programs for grant competitions. This was applied to the 2017-2018 academic year.
"The representatives of Congress deserve our thanks for their insight and discernment of TRiO programs being valuable," Fortner-Wood said.
Four objectives exist for the McNair Scholar program, but the mandatory objective of all programs is for graduating students to obtain a Ph.D. within 10 years of receiving their bachelor's degree.
"The institution chooses the percentage they are working to achieve in their grant proposal. In Winthrop's 2017 proposal, we determined that setting the objective at 14 percent was ambitious and attainable. Winthrop will be evaluated on this objective after 2021," Fornert-Wood said.
Winthrop currently has 10 students, which means at least one student must receive a Ph.D out of this year's graduating cohort.
Every McNair scholar participates in a summer research experience the academic year they join, but the experience must be completed as an undergraduate. Graduating seniors this academic year are not eligible to apply.
The experience provides students with paid, on-campus living, a $2,600 stipend, a mentor with a Ph.D. and coursework. The program provides more benefits for participants, including paying for GRE preparation and fees, conferences to present their research, and sending transcripts to graduate schools.
"Any obstacle that you can think of, that we can think of, that can keep people from applying to graduate school and getting in — that's the stuff we try to do," Fortner-Wood said.
They also help McNair scholars publish their research find funding, aid with interviews and developing speeches and graduate program applications.
"The program can send students to explore graduate programs, even if they will not be the right fit," said Fortner-Wood. "All expenses are paid for."
"So many times we heard our students say, 'you know, I'm looking at my peers, and I see that they are struggling, but I've got this. I've been through this before,'" Fortner-Wood said.
Winthrop is one of only two institutions that has the McNair Scholars Program in South Carolina, the other being University of South Carolina. Both universities collaborate to service students from other South Carolina colleges and universities.
Two non-Winthrop students are currently in the program, one from College of Charleston and the other from Limestone College. Including those two institutions, Winthrop's McNair program also serves Wofford College, Columbia College and Clemson University.
Winthrop's McNair program will serve at least 30 students this year as opposed to the standard 25 students for other McNair programs.
The McNair Scholars Program receives 72 percent of its funding from the U.S. Department of Education via the TRiO grant, while Winthrop contributes the other 28 percent with $85,000 in cash and in-kind matches, according to the program's Winthrop webpage.
The Winthrop McNair Scholars program began in 2009, preparing 30 first generation, low-income and underrepresented undergraduates to be successful in Ph.D. programs by providing research and other opportunities as well as financial support throughout the graduate admissions process.
Winthrop's program includes, but is not limited to: a paid summer research experience, faculty mentoring, workshops, GRE and graduate school application preparation and travel to present research and explore graduate programs.
Tears could have swelled in Marissa McNeace eyes when she heard the news of the funding increase.
"To know that this program can continue on and do even greater things for the future cohorts, it just feels amazing. Hopefully these funds may be able to help McNair serve even more students, and serve those students as well as I have been served during my time in McNair," said McNeace, a junior Psychology major.
McNeace is studying the ideological differences between liberals and conservatives and joined McNair last fall. She plans to construct a theory for this out of the research she plans to do and is still researching her choice of graduate school.
"McNair provides me with tons of resources to research and even visit any school in the country I am interested in," McNeace said.
But McNeace acquired something else important, something just as important as admission into graduate school.
"McNair has given me a family to call my own right here at Winthrop. The bond I have with my cohort is incredible, and I've gained so many lifelong friendships," McNeace said. "I also have gained wonderful mentors, like the great Dr. Fortner-Wood, my research mentor Dr. Jeff Sinn, and all the other staff in McNair. It's given me such wonderful support and a great foundation for my future."
Ana Barkley, a senior choral music education major, said she was elated when she heard about the funding increase and is proud of the program's recognition.
"It is obviously indicative of a prioritization of the students this programs serves," Barkley said. "It also means that our reported McNair statistics are showing that this program does what it was designed to do."
"McNair has made me realize that no goal is unattainable for me," Barkley said. "It has provided me with a sense of academic security that I could not get otherwise, being a low-income, first-gen student. I now have this group of inspiring peers and professionals who are personally invested in me, my goals, and my success. I could not get that anywhere else. It is a priceless resource."
Barkley joined McNair last spring, her summer research focusing on oppression in music education.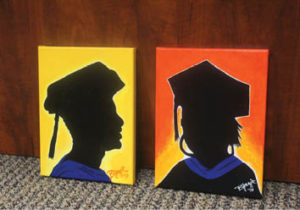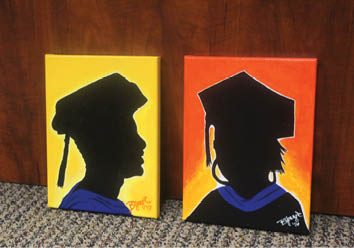 It observes the inclusion practices of music educators in public high schools for three different marginalized groups: racial minorities, English learners, and low-income students.
She developed appreciation for scholarship, work ethic, curiosity for her field, compassion, and many more benefits through McNair.
If students are interested in learning more about the McNair Scholars Program, they can attend the Oct. 5 information session in Dinkins Auditorium from 6-7 p.m.
It is open to everyone, and all majors are welcome to apply. Student materials are due on Oct. 13 by 4:30 p.m. to 104 Dinkins Hall. Recommendations are due by Oct. 20. Students can also contact mcnair@winthrop.edu for more information.