Head coach Moreno leads Spirit Squad into new sports season
Winthrop's Spirit Squadrecently finished auditions, and will now move on to practicing for the games to come.
The audition period consisted of a prep class and then proceeded with the official audition. Both of these events were on two separate nights. Head coach and instructor, Taryn Moreno, brought in three dance experienced judges. These judges ranged from hip-hop backgrounds to classical ballet backgrounds, giving the panel a variety of talent for the audition process. All of the judges had a huge effort to contribute to the picking, creating and making of this year's Spirit Squad.
"After dancing for over 15 years now, this audition was probably one of my most favorite and will be remembered for the rest of my life. I think the prep class definitely helped boost my confidence and motivation for the actual auditions that were soon to come," said Brooke Tindal, "My favorite memory from the audition was finding out I made the team."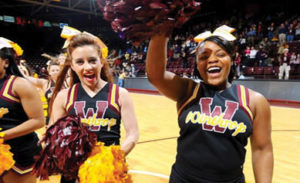 Coach Moreno released each dancer's name and number from their audition over the microphone. She did this on Byrnes stage, giving them the opportunity to run on stage, receive their flowers, and get a hug from Winthrop's mascot, Big Stuff. After that, the new and fully announced squad stood on stage with all of their new teammates.
"This was really special to me to see the amazing girls that I will get to grow and spend time with this season," stated Tindal.
Coach Moreno is a Winthrop Alumni and had the experience of being on the dance and cheer team when she was a student. Moreno has danced and performed with the Charlotte Checkers, giving the team the ability to grow in skill and performance with her guidance and experience.
"I'm beyond excited for this upcoming season for the Spirit Squad. Things are completely different than they have been in the past and I'm excited for fans to see the new and improved squad," said dancer, Madeleine Mueller. "The Spirit Squad quickly became a huge part of my life last year and I'm just grateful I get to continue doing what I love. The girls on the squad are so talented and dedicated, and we just can't wait to get out on the court soon."
The Spirit Squad will continue to practice and train in preparation for the year ahead in hopes to help lead Winthrop into a successful basketball season.