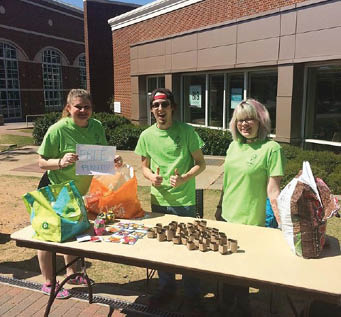 SEAC's new officers encourage environmental awareness and action
Winthrop's Environmental Club is experiencing a turnover in leadership for the 2017-2018 academic year, after the former co-presidents graduated in May. Connor Amick and McKenzie Kargel, both seniors, have replaced Clara Kress and Savannah Moritzky as co-presidents of Winthrop's Student Environmental Action Coalition.
During the club's first meeting, the new officers discussed the club activities they plan to continue including the Plastic Bag and Battery Drive, Homecoming Recycling Rescue, Weigh the Waste, cultural events to educate fellow students and Community Garden work days.
The officers have new ideas in mind for the coming semester including working to establish a Food Recovery Network. They also plan to use part of the club's meeting times to touch on current environmental issues and events. A discussion of the environmental impact of recent hurricanes took place during a recent club meeting.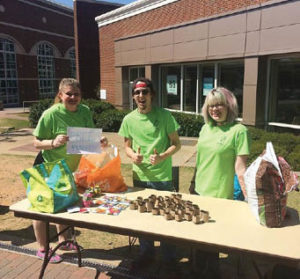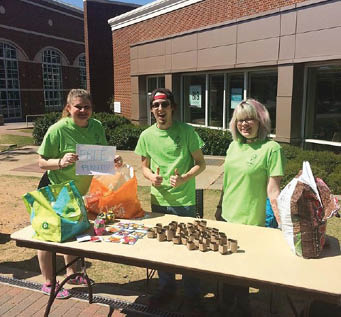 "We also hope to incorporate more fun activities that show how fun being in nature can be, like hiking at Anne Springs Close Greenway or kayaking at the whitewater center," Kargel said.
Kargel is an environmental sciences major with minors in chemistry and geology. She hopes to complete a graduate program in sustainable development or ecological restoration. She has been involved in environmental organizations since her freshman year at Winthrop. SEAC did not come to campus until her sophomore year, but before that she was the environmental division leader for Serving Others and Reflecting.
"I have been attending and helping to organize environmental events at Winthrop for three years, so I thought it was time to take a leadership position," Kargel said. "I hope to be able to use my expertise to organize events that really reach the wider Winthrop population and teach them about their effect on the environment."
Amick is a biology major with a concentration in conservation. After he graduates, he plans to work in some capacity with wildlife. He joined SEAC during fall semester of last year but has also volunteered his time outside of campus, including at a turtle rescue in Charleston.
Kress joined the club two years ago when it was first re-established on campus after a period of inactivity and took a position as co-president.
"The club started back from basically nothing so I think we've made great strides getting it back up and running. We've gone from no presence on campus to being directly involved with students again," Kress said. "My hopes for this year and the future of the club are that it will thrive and be a well-known group on campus. Not only that, but be one that the student body is actively involved in and at least helps the students to be more aware of their individual environmental impact. I think that Connor and McKenzie are great people to take over as co-presidents and they are passionate about what the club is about."
Kress said that being a part of the club made her more conscious of her choices and waste production.
"I have a respect for the planet that the club helped to instill in me," she said. "I would ask students to keep in mind how the little things add up to have a huge impact. It might seem like you're just throwing one water bottle into the trash instead of the recycling bin, but if everyone did that it creates a huge amount of plastic waste at our school. If everyone assumes that someone else will care and do something for the environment so they don't have to, then we've got a huge problem."
"You don't have to be a huge environmentalist and make crazy changes in your life to make a difference," Kargel said. "Go the extra few feet to recycle that water bottle, cut two minutes off your shower, unplug your chargers from the wall if you're not using them, and cut meat out one day a week. If everyone on campus made just a little effort in these directions, we could really decrease Winthrop's energy usage, greenhouse gas emissions and trash output."
According to Amick, preserving the environment is one of the most important things in today's world and he encourages students to join the club to "help keep Winthrop beautiful."
"No matter what field you're going into, the environment's health impacts your life," Kargel said. "If the climate changes drastically in the future, it will cause more diseases impacting the health field, disrupt the economy impacting marketing and business and generally disrupt people's lives."
For more information, contact Amick at amickc2@winthrop.edu, or Kargel at kargelm2@mailbox.winthrop.edu.