Pi Kappa Phi Epsilon Eta recruitment week highlights
Pi Kappa Phi is a fraternity on campus that is "extremely diverse and an open group of guys," state's Adam Caratenuto, a current member of the fraternity.
Each greek organization has a philanthropy that they pursue, and Pi Kappa Phi's members work for the charity the "Ability Experience," which raises money for people with disabilities.
Pi Kappa Phi was originally a non-fraternity called Nu Phi, and on Dec. 10, 1904 it became a fraternity with only three members! This number eventually grew, and in less than five years, there were chapters of Pi Kappa Phi all over the U.S. Apr. 18, 2009 marks the commencement of the Epsilon Eta chapter of Pi Kappa Phi here at Winthrop University.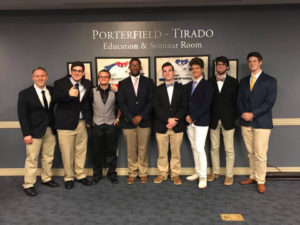 These men have kept the organization going with the standards that the members of the non-fraternity stood for. As members, the brothers of Pi Kappa Phi are supposed to build trust among each other, be a representation of what a Winthrop eagle is, motivate themselves to excel in the classroom, and make sure that when they graduate they are good citizens in the community.
Before they can reach their potential in this organization, they must first be inducted. Since Monday, Sept. 11, the fraternities on campus have been advertising their fall recruitment. Prior to the recruitment, they had three rush events. On Sunday, Sept. 17 they chose who became a member of Pi Kappa Phi. Along with rush week, these brothers participated in events such as a Scaffold Sit, fundraising for Push America, "Chain"ge, and the Homecoming Car Smash.
The Scaffold Sit is where they continuously pedal on a stationary bike to raise money for their philanthropy, "The Ability Experience." Winthrop Push Day involves Pi Kappa Phi members making a link of small chains on Scholars Walk to support and donate money to kids living with disabilities. The Homecoming Car Smash is an annual event the brothers hold on campus. For the event, they charge one dollar for one minute of smashing a car while showing school spirit and supporting Push for America.
In addition to their involvement on campus, the members of this organization can also be seen volunteering at the Adult Enrichment Center near campus. The Adult Enrichment Center is a daycare center for anyone who is over the age of 18 with disabilities, and allows them to socialize with people their own age in the community.
If any of these events sound interesting and you want to join this fraternity you should email Pi Kappa Phi at pikappaphi@winthrop.edu.  IFC will be holding spring recruitment from Jan. 22 through Jan. 28. Keep in mind, to be a member of any Greek organization on campus, you must be enrolled as a student, have completed a minimum of 12 credit hours, and have a cumulative GPA of at least 2.5.