While dwelling on his experience working at universities and his upcoming plan for the year, Mahony has received a contract extension for his diligent work
The board of trustees granted President Daniel Mahony an extra year to his contract, extending it to June 30, 2019.
"As he has led Winthrop through the first year of our strategic plan, Dan Mahony has the confidence of the board because of his vision for where the university needs to go and for his effective leadership style," said Board Chair Karl Folkens in a Winthrop press article.
Excited to work on goals for the 2017-2018 academic year, Mahony looks forward to upcoming events and developing programs.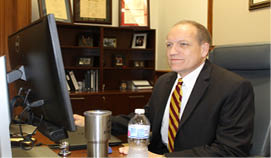 How do you feel about your contract extension?
Good! It was part of the expectation. The way that they did the contract originally was that there would be no renewal after the first year, but after the second year, they would renew. It would be a constant one-year renewal, and it will continue as long as they continue to be happy with my performance. I was evaluated as "exceeding expectations," so that meant I was performing well enough to have the contract extension.
What are your goals for this academic year?
The goals are all laid out in our strategic plan. There's 25 goals we're continually monitoring. We'll do a big State of the University Address on Oct. 5 and we'll talk about what goals we achieved. Some were well-exceeded, some we didn't reach. So we'll talk about what we need to do differently going forward. There were some exciting things recently. Student, staff and faculty diversity numbers are up —  we exceeded some of those goals.
Enrollment we need to continue to grow, and that's something we fell short of in terms of goals. We'll be focusing on new program development, and that will be something I'm looking forward to this year. We are also developing some non-academic, outside-the-classroom programs.
Dr. Disney and some of her colleagues are working on a series of programs centered around leadership and social change, which I think will be really interesting and I think the students will like quite a bit. We'll really be using the expertise of our faculty and staff about, "If you want to change the world, how do you do it most effectively?"
There are traditional events I'm looking forward to as well. There are a lot of good performances in the theatre and music departments that are fun to attend. Athletics will be fun. There are a lot of things I'm looking forward to in the year, especially things that are key to our strategic plan.
What was it about Winthrop that attracted you here? 
It came down to wanting a place where it was small enough for you to get to know people, both the faculty, staff and students —  across the board, really.
We got to go to a different part of the country again. We liked our time in Louisville; we like the south and Winthrop just has a strong reputation. I knew people who went to school here and talked so positively about it.
Where did you attend school? 
My undergrad was at Virginia Tech, I was an out-of-state student. I had a master's degree in accounting. I did that for a brief period of time before I decided to do something different with my life. I went to West Virginia and got my master's degree in sports management. I worked in college athletics at West Virginia and the University of Cincinnati before I went to Ohio State for my doctorate.
What is your experience working at colleges and universities? 
I taught at the University of Oklahoma for a year after I got my doctorate. Then I worked at the University of Louisville for 13 years and that's when I started to work with the faculty and the administration —  department chair, associate dean, associate provost —  and then I worked at Kent State University for seven years.
At Kent State, I was the dean of the College of Education and Health and Human services, which is a similar college to the College of Education here. It has some of the same programs, but it was a little bigger.
The enrollment in that college was almost as big as Winthrop, so they had about 5,000 to 6,000 students. Winthrop is the first place I've ever been that's this size. Most of the institutions are ones I've been at in the past probably had 20,000-plus institutions, student enrollment-wise. This has been different, which I like. You get to know the students better.
What do you do in your free time?
Well, I don't get a lot of free time! But when I do, I spend a lot of time going to my kids' activites. They're in high school; my daughter is a freshman and my son is a senior. Their activities is the biggest thing we do. We try to get out to dinner occasionally as a family and we don't get to do that a whole lot. I play Fantasy Football, so I'm waiting for that to start up. I watch a little T.V. I kept up with Game of Thrones, like everyone else.
For those "Game of Thrones" fans, what do you have to say about season seven and its finale? 
Season 7 had a lot happen. It was an exciting season. I'm looking forward to the next one. I can't believe that I have to wait this long. That's always the thing when you come to the end of the season, you can't wait for the next one to come. The last one will obviously be a really interesting one.